Tim Tebow to Join 'Good Morning America' as Motivational Correspondent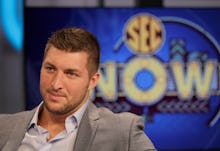 Starting next week, former NFL quarterback and Heisman Trophy winner Tim Tebow will be contributing a "Motivate Me Monday" series to ABC's Good Morning America. The last sentence is honestly the perfect answer for a Tebow mad libs: _______ (name of former athlete) will be contributing a _______ (name of series) to _______ (name of show).
After a remarkable run with the Denver Broncos in 2011, the team moved on from Tebow when they came to terms with Peyton Manning. Tebow landed with the New York Jets, but was used sparingly before joining the New England Patriots at training camp in 2013. Despite the tantalizing prospect of having Tebow as a backup to Tom Brady, he was cut before the start of the season.
With no NFL team expressing an interest in bringing Tebow into camp this past summer, the writing is on the wall for his professional football career. This makes the transition into the Good Morning America role an ideal one for Tebow, who already has television experience as a college football analyst on ESPN.
As for what his "Motivate Me Monday" series might look like, his past as a motivator on the football field provides us with a potential glimpse. Look at this motivational speech from Tebow while he was with the Florida Gators at halftime of a national championship game that they would go onto win:
Chills, anyone?
Tebow is also known to quote the Bible while in the huddle. The most famous story comes from a win over the San Diego Chargers when he was in Denver. The night before the game, head coach John Fox asked Tebow to deliver a speech to the team. The quarterback quoted Proverbs and told his teammates, "Iron sharpens iron, so one man sharpens another."
The Broncos beat the Chargers the next day. Teammate Von Miller attributed most of the victory to Tebow's speech: "He gave us a great speech. We came out for the game fired up. And that was a wrap."
So even though this is an entirely new gig for Tebow, he's no newbie to motivational speaking. Now everything Tebow does from now until he disappears from the media spotlight will be discussed very tongue-in-cheek. It's not entirely his fault. Really, it's almost none of his fault. The media has molded him into an archetype that makes it easy to ridicule him.
And yes, recording Good Morning America for Tebow's segment might be on some calendars next week, in preparation for a hilarious recap, or to see if he's spawned the Internet's next big meme. But truth is, it's fun, it's entertaining, and in a week where sports has been extremely shitty, a Tim Tebow motivational Monday television segment sounds all right for now.