Watch Sportscaster James Brown Deliver a Powerful Monologue Against Domestic Violence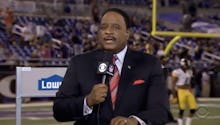 Leave it to one of the NFL's most prominent commentators to make a powerful statement against domestic violence.
On Thursday night's telecast of the Steelers-Ravens game, James Brown rescued what could have been a disastrous show. Lost in the mess of dropping Rihanna's opener in light of her past experiences with domestic violence was the fact that Brown challenged men across the country to take responsibility for their own actions.
In powerful and far from subtle commentary, Brown reminded us that we need to look past the media circus and more closely at the issue itself.
The entire transcript of Brown's remarks can be found here.
It's also important to take note that Brown remembers Jovan Belcher, the Kansas City Chiefs player who killed his girlfriend and them himself in 2012 over domestic issues. Instead of joining the chorus to fire NFL commissioner Roger Goodell and adding to the pain that Janay Rice is enduring, Brown's message was the moment of sanity that has been missing from much of the recent debate.
Brown put the responsibility on men to address our own attitudes and language toward women. He reminded us that we cannot call for change or express our outrage without first addressing our own words and actions in regards to women. Sure, the phrase "boys will be boys" is true, but there comes a time when outdated and caveman behavior simply has to stop.
Brown was speaking to all of us boys to grow up and be men on Thursday night. Let's hope he doesn't have to do this in the future again.