Mark Sanford Just Posted the Most Bizarre Message on His Facebook Page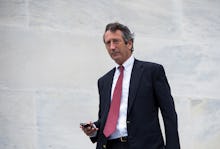 Rep. Mark Sanford has finally responded — in a long, rambling 2,346 word Facebook post — to his ex-wife Jenny Sanford's allegations that he has psychiatric and alcohol-related issues.
"I have struggled in how to respond since being contacted little more than a week ago regarding yet another lawsuit by yet a new, and third, lawyer retained by my former wife Jenny," the South Carolina Republican wrote on Friday afternoon. 
"I cannot do this anymore. In all life there comes a point wherein lines must be drawn in the way that we attempt to respond in ways that don't invite more in the way of conflict. [...] I believe it's what we are to pursue in all of our responses to the inevitable reality of conflict in our lives."
His bizarre, passive-aggressive response is a sight to behold, especially coming from a prominent politician. It outlines three basic points: That his ex-wife's claims are meritless (and "crazy"); a "rededication to trying as best I can to walk in the light of God's grace"; and the decision to break things off with his fianceé Maria Belen Chapur, the woman with whom he engaged in an affair while still married to Jenny Sanford.
The response comes on the heels of Jenny Sanford's request to change the visitation rights of her ex-husband. She also asked that he undergo "psychiatric evaluations and complete both an anger management program and a parenting program as part of their ongoing divorce proceedings," reported WISTV. 
The Sanford circus was last in session in 2009, while he served as governor of South Carolina, when he claimed he was "hiking the Appalachian Trail" but was really engaging in an extramarital affair.
Predictably, Sanford's incoherent feelings-dump provided comedy gold for Twitter. 
As one Facebook commenter sagely pointed out, "Sometimes it's better to wash your dirty laundry at home and not on Facebook."