George Zimmerman's Alleged Latest Stunt Reveals Just How Out of Touch He Is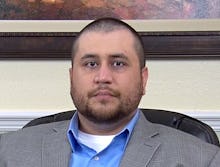 AP
"Do you know who I am? I'll fucking kill you." 
Those are the words George Zimmerman allegedly uttered last week after a man pulled up next to him in a road rage incident, police told Orlando's Local 6 news station.
The man, who called 911, said that he was driving Tuesday when Zimmerman pulled up next to him and yelled, "Why are you pointing a finger at me?" The man pulled into a parking lot to call police, and Zimmerman allegedly followed him and got out of the car.
Zimmerman was carrying a gun, the man told police, and asked, "Do you know who I am?" then threatening, "I'll fucking kill you." Zimmerman allegedly departed before authorities arrived. Two days later, according to police, the man saw Zimmerman outside his workplace and called the police again. There has been no arrest as the man declined to press charges.
(In)famous: That Zimmerman, famous for killing Trayvon Martin and his subsequent acquittal, might threaten to kill someone in a fit of road rage doesn't seem all that surprising. But the really disturbing part of the story is the "Do you know who I am?" allegation.
It's a cliché that out-of-touch celebrities will proclaim something like that when they think they're being disrespected. Zimmerman, though, isn't exactly Miley Cyrus ordering at a Denny's.
The swell of praise and attention for Zimmerman after he shot a teenager, though, might give someone that impression. He received donations from well-wishers, setting up a website to handle them. He became the subject of fawning t-shirts. He was even booked in a celebrity boxing match before it was canceled.
That kind of support can warp someone who is at best a tragic warning and at worst a murderer into thinking they're larger than life.
Other run-ins: This isn't the first time Zimmerman's been in the news since he was acquitted in the Trayvon Martin shooting. He was arrested late last year after being accused of domestic violence by his ex-girlfriend, though the charges were later dropped when she stopped cooperating with police.
He also made news for visiting a Florida gunmaking facility a month after his acquittal, taking photos with employees, and helping a family get out of their overturned SUV.
Stand Your Ground activists and racists might want Zimmerman to be some kind of hero. These allegations, if true, are what happen when he takes that hero worship to heart.