Watch Ellen's Belated, But Perfect, Tribute to Robin Williams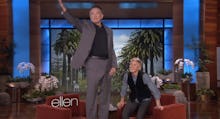 Youtube
This week, after coming back from a hiatus, Ellen DeGeneres aired a belated, but amazingly touching, tribute to the late comedian Robin Williams. 
Compiled just from clips of William's visits to Ellen, the segment came several weeks after many other had already paid their tribute to Williams, but that doesn't make it any less special, endearing or inspiring.
"Every time he was here, he made me laugh so hard," Ellen said. "He was really one of a kind and I'm thankful that I got to call him a friend."
Watch the clip below:
The news of Robin Williams' death in early August shook the comedy world, the entertainment world and, arguably, the world in general. In the days afterwards, admirers shared various tributes to his acting ability, his amazing comedy talents and the ways he made us think about important issues. Various comedians like Billy Crystal, Norm MacDonald and several late night anchors also shared their memories of Williams and his brilliance. 
Need help? In the U.S., call 1-800-273-8255 for the National Suicide Prevention Lifeline.
h/t Mediaite