A California High School Stood Up for Gay Rights With a Small but Powerful Decision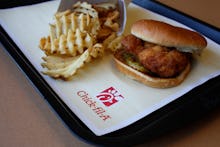 Getty Images
A Los Angeles high school has refused to let Chik-fil-A sandwiches be sold on campus because of the chain's stance on gay marriage.
Ventura High School president Val Wyatt told the Venture County Star that the chain's anti-gay marriage views could offend some students. Wyatt prohibited the school's football booster club from selling the Chik-fil-A's famous sandwiches at a back-to-school event because of their political activism against gay marriage.
"With their political stance on gay rights and because the students of Ventura High School and their parents would be at the event, I didn't want them on campus," he said.
The county school district superintendent, Trudy Tuttle Arriagia, was more pointed, adding that "We value inclusivity and diversity on our campus and all of our events and activities are going to adhere to our mission."
"There are gay kids that go to our school, and for them it might be kind of weird," student Graham Wallace told CBS Los Angeles, saying that he agreed with the principal's decision. 
But some others were not as impressed. The school team's booster club was planning on sell 200 donated Chick-fil-A meals and expected to raise about $1,600 for the school's football team. 
"Everybody is embraced," Michelle Cisneros told CBS Los Angeles. Cisneros and her daughter were reportedly angered enough by the principal's decision that they companies to school officials. "And Chick-fil-A should have been allowed to be here." 
The background: Chik-fil-A's late conservative founder and evangelical Christian S. Truett Cathy ran his company as an overtly religious institution and donated millions of dollars to anti-gay groups from family coffers, leading opponents to brand the Cathys as bigots.
Dan Cathy, Chick-fil-A's president and chief operating officer, told a Christian news organization that he supported "the biblical definition of the family unit" and later argued on radio that "As it relates to society in general, I think we are inviting God's judgment on our nation when we shake our fist at him and say, 'We know better than you as to what constitutes a marriage." Asked about his views concerning homosexuality, he described himself as "guilty as charged." The predictable result was a series of boycotts and counter-protests in the lead up to the 2013 Supreme Court decision that threw out sections of DOMA - after which Cathy bellowed that the "founders of our nation would be ashamed."
Chik-fil-A stopped dispersing much of its anti-gay funding in the past few years, but the chain continues to support the "biblical" view of marriage.
Why you should care: Ironically, the logic used to bar Cathy's business from Ventura High School has been used by fundamentalist Christians for years to battle changing social mores. Earlier this year, Mississippi evangelists announced how offended they were by businesses supporting the right of LGBT people to not be discriminated against by publishing a boycott list online. Tennessee evangelicals are so offended by the very notion of gay people that they have repeatedly introduced a "Don't Say Gay" bill to prevent homosexuality from even being mentioned in public schools, while abstinence-only sex ed programs favored by conservative Christians have their roots in morality laws designed to censor sexually explicit materials.
Now that the public tide has turned on gay marriage, it's the anti-gay people whose message is being viewed as offensive — and rightfully so.