A Woman Found This Photo Near Ground Zero — 13 Years Later, She Tracked Down Its Owner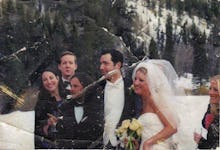 Facebook
It took 13 years, but a Massachusetts woman was finally able to find the people in a photo she's kept with her the entire time. 
This isn't just any photo. It was found near Ground Zero after the 9/11 attacks and then given to Elizabeth Stringer Keefe, who has posted its image on social media ever since to try and track down the people pictured — or at least figure out who they are.
"I have always said to myself about the photo that I try not to think about what the story behind it is, and that I just want to get the photo back," Keefe told Boston magazine. "I would like to just, sort of in my mind — I really resisted being fatalistic about the photo, and thought that this could just be a photo that was in someone's office, or someone that made it out alive."
The reaction: Keefe got a big boost this year when her tweet went viral, bringing in tens of thousands of retweets and spreading the image to plenty of eyes.
"I feel like people are giving it the exposure it needs to get the right set of eyes on it. Twitter has literally taken it up. I think that it could be the year that it gets back to the owner. I hope so," she told Boston at the time. "I never anticipated the overwhelming interest in it. I'm just so shocked. But it's great, I'm thrilled. I would like to give it as much exposure as possible."
After lots of attention, year 13 turned out to be the lucky one.
Success:
Fred Mahe, who used to live in New York City but has since moved to Colorado, recognized the photo. (He's the man on the far left.) Mahe got back in touch with Keefe with the good news.
Mahe said the photo was taken at a friend's Aspen wedding in 2001. The picture had been sitting on his desk on the 77th floor of World Trade Center Tower Two. He told Boston that he had not yet gone into the office when the attacks happened and had figured the photo lost.
"The picture has been kept safe by [Keefe] for the last 13 years," he said. "She kept my photo safe for 13 years in her favorite Ernest Hemingway book, A Moveable Feast."
It's a heartwarming end to one small story, among so many others surrounding the tragedy, of human decency and togetherness.
h/t BuzzFeed