Bill Gates Just Made His Biggest Single Donation Ever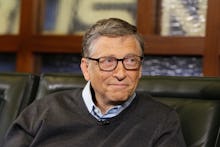 AP
Last week, the Bill and Melinda Gates Foundation announced that it would be spending a staggering $50 million to help fight the ongoing outbreak of the disease in West Africa, 
The funds will be released to "United Nations agencies and international organizations involved in the response to enable them and national governments to purchase badly needed supplies and scale up emergency operations in affected countries." Foundation funds will also go to efforts to develop a vaccine or effective treatment for the disease as well as better diagnostics that would increase rates of early detection.
To put the donation in context, AFP reports what other organizations are committing:
The WHO has pledged USD 100 million to combat the Ebola spread, while the World Bank vowed USD 200 million, the European Commission USD 181 million, and the United States USD 75 million to combat.
Based on these numbers, the Gates fortune looks to be committing over 8% of that pool of funds. Already, $5 million of the foundation's money has been given to the World Health Organization, while an additional $5 million was given to UNICEF, which is providing supplies and resources in areas with the worst outbreaks.
The background: Just one week ago, UN Secretary-General Ban Ki-moon issued an "international rescue call" and said that the "world can no longer afford to short-change global public health." He added that public health efforts in Guinea, Liberia and Sierra Leone were relying on the hope of a "massive surge in assistance" in coming weeks that so far had not materialized.
In the same release, doctors noted that they were closing in on some effective therapies and two possible Ebola vaccine candidates. An experimental vaccine being developed through a joint effort by the federal government and GSK may be available by the end of the year, and if it is proven to be safe and effective it will be immediately available with tens of thousands of doses.
The situation otherwise remains very bad. On Sept. 12, the WHO updated its estimates of casualties to 4,366 cases and 2,218 deaths. Nearly half of the infections had occurred in the past two weeks, indicating that the disease is now widespread and accelerating. National Institute for Allergy and Infectious Disease director Anthony Fauci told AFP that "The problem is that unless we have a massive scale-up of resources in the form of hospital beds, personnel, equipment, we are not going to be able to control this ... We need to do something at a much higher scale that we are doing now."
Why you should care: The Ebola epidemic throughout West Africa is still far from being contained, and the New York Times reports that some infectious disease experts suspect the outbreak could last for 12-18 months and infect hundreds of thousands of before subsiding. Liberia's president has appealed directly to the U.S. for help. Local governments have not responded very well to the current outbreaks, worsening the situation.
The Gates' donation is desperately needed, but even more money will be required to stabilize a rapidly worsening situation — and it probably won't all come from friendly billionaires. Governments need to get their act together and commit the resources West African countries need to fight Ebola, or the epidemic may still get much worse.