Islamic State Releases Video Showing Alleged Execution of British Aid Worker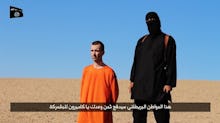 The Islamic State group a new video purporting to show the beheading of British hostage David Haines, Al Jazeera reports. Haines, 44, was kidnapped last year in Syria while helping to deliver humanitarian aid with the French agency ACTED.
According to SITE Intelligence Group, which tracks jihadist activity online, the video bears the logo of al-Furqan productions, a media account associated with IS. Haines was previously shown on camera during the execution of 31-year-old American journalist Steven Sotloff. 
"My name is David Cawthorne Haines. I would like to declare that I hold you, David Cameron, entirely responsible for my execution," says Haines in the video. "You entered voluntarily into a coalition with the United States against the Islamic State, just as your predecessor, Tony Blair, did. Following a trend amongst our British Prime Ministers who can't find the courage to say no to the Americans."
A statement from the family of Haines released earlier Saturday though the British Foreign office said the militants had not replied to previous messages pleading for the release of Haines. "We are the family of David Haines," said the family statement We have sent messages to you to which we have not received a reply. We are asking those holding David to make contact with us."
British Prime Minister David Cameron tweeted this statement:
The video comes days after President Obama announced that a coalition of nations would engage in a campaign of airstrikes against the IS in both Iraq and Syria.