LAPD Confuses Black Actress Kissing White Partner for Prostitute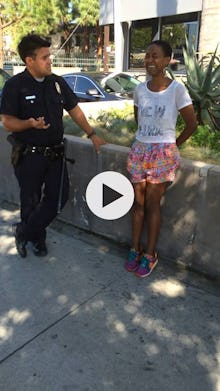 Update, Sept 15: TMZ has obtained audio from the LAPD, who said that they were called because Watts was reportedly having sex with her boyfriend in public. According to TMZ, witnesses told police Watts and Lucas were allegedly having sex in the front seat of a car with the door open. Sgt. Jim Parker told KFI AM 640 that the caller who initially contacted police said Watts was straddling Lucas.
Original story: African-American actress Danièle Watts claims she was "handcuffed and detained" by police officers from the Los Angeles Police Department at CBS's Studio City production facility on Thursday after allegedly being mistaken for a prostitute.
According to accounts by Watts and her partner Brian James Lucas, two police officers mistook the couple for a prostitute and client when they were seen showing affection in public. When the officers asked Watts to produce a photo ID when questioned, she refused. Watts was subsequently handcuffed and placed in the back of a police cruiser while the officers attempted to figure out who she was. The two officers released Watts shortly thereafter.
Watts, who played CoCo in Quentin Tarantino's Django Unchained and currently stars in Martin Lawrence vehicle Partners, posted an account of the incident on her Facebook page: 
"As I was sitting in the back of the police car, I remembered the countless times my father came home frustrated or humiliated by the cops when he had done nothing wrong," wrote Watts. "I felt his shame, his anger, and my own feelings of frustration for existing in a world where I have allowed myself to believe that "authority figures" could control my BEING… my ability to BE!!!!!!!"
Watt's husband Brian Lucas, who is white, claimed that the two were targeted by police for being an interracial couple and, while police didn't explicit ask Watts if she was a prostitute, asked questions laden with innuendo. In a seperate post on his Facebook page, Lucas said that "from the questions that [police] asked me as D was already on her phone with her dad, I could tell that whoever called on us (including the officers), saw a tatted RAWKer white boy and a hot bootie shorted black girl and thought we were a HO (prostitute) & a TRICK (client)."
Image Credit: Brian Lucas/Facebook
In a statement to the Washington Post, the LAPD said that North Hollywood patrol officers responded to a radio call last Thursday from a concerned citizen, who said that a male and female were involved in "indecent exposure inside a silver Mercedes with the vehicle door open."
"The responding sergeant and police officers located two individuals that matched the description of the suspects, and they were briefly detained," according to the statement. "Upon further investigation it was determined that no crime had been committed. Ms. Watts and her companion were subsequently released. An internal complaint investigation has been initiated regarding this matter."
Sadly, this isn't the first time something like this has happened to a black woman in America. In 2008, a Galveston, Texas couple sued three police officers who arrested and beat their 12-year-old daughter after mistaking her for a prostitute. And at the 2011 Netroots Nation convention in Minneapolis, Minn., Cheryl Contee of Jack and Jill Politics asked a panel of African-American women to raise their hands if they had ever been mistaken for a prostitute. Everyone's hands went up.