Watch Conan O'Brien Sing the 'Simpsons' Iconic Monorail Song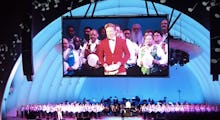 YouTube
This weekend, to celebrate 25 years of The Simpsons, a cavalcade of voice actors and stars filled Los Angeles' Hollywood Bowl for a night of awesome Simpsons music. Though Nancy Cartwright, Yeardley Smith and Hank Azaria were on hand (three people who supplied many voices for the people of Springfield), the real show-stopper came when Conan O'Brien stepped out to sing the famous "Monorail Song" from the fourth season's "Marge vs. the Monorail" episode. Take a look below:
Backed by the Gay Men's Chorus of Los Angeles, O'Brien donned the traditional Lyle Lanley outfit and dedicated the performance to the late Phil Hartman, who voiced the character in the original episode. 
Considered by many (like Rolling Stone and IGN) to be one of the best, if not the best, Simpsons episodes of all time, "Marge vs. the Monorail" helped catapult a then-young O'Brien into the realm of comedic genius. Though he was only on the show's writing staff for two seasons in the early '90s, O'Brien left a strong mark on the history of The Simpsons with episodes as strong as this one, as well as other classics including "New Kid on the Block," "Homer Goes to College" and "Treehouse of Horror IV."
But "Marge vs. the Monorail" has clearly left a larger impact. 
"Here it is, 22 years later, and people still come up and want to talk with me about "Marge Vs. the Monorail," and they can quote from it and I can't. I've forgotten it all," O'Brien told BuzzFeed in a recent interview.
The evening also featured a number of other classic Simpsons songs any true fan would know and love. Take a look at some of the other highlights below.  
h/t The Verge