A San Diego School District's Armored Car Is What's Wrong With Militarization in America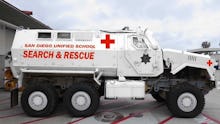 San Diego Unified School District
This is an MRAP or mine-resistant ambush protected vehicle:
While you'd usually expect to see a vehicle like this in Afghanistan or Iraq, it's about to become the newest addition to the San Diego Unified School District (SDUSD), reports NPR. The image above is a mock-up of what the MRAP will look like once it's outfitted and repainted for SDUSD use. But there's a problem.
The community doesn't want it. And for good reason. No matter how you look at it, the massive MRAP is combat vehicle and trying to repaint it and call it something else is going to be a tough sell for concerned citizens. 
Shortly after the news of the acquisition broke, school board trustee Scott Barnett spoke out and called the move a "misguided priority," arguing that the MRAP would be put to better use by local police rather than the school district. 
Andy Hinds, a father of twin girls who started kindergarten last week in the SDUSD, wrote in the Daily Beast about how he felt his children's school could use another teacher and more shaded areas on the playground, but not a MRAP.
One thing I didn't realize we needed is a Mine-Resistant Ambush Protected Vehicle (MRAP). But our school district now has one. Ours is the Caiman model, a 6x6 behemoth that weighs in at over 15 tons and makes Humvees shrivel up with feelings of inadequacy. The Caiman offers a range of option packages, from bristling-with-machine-guns, to monster-truck-field-hospital. But we got ours used, so we have to make some modifications in order for it to serve our purposes, which were not immediately clear when a local news site broke the story before the District was ready for the official rollout.
Others shared Hinds' concerns. NPR noted that one critic of the latest development said, "They can call it a 'love buggy,' a 'student patrol limo,' or a 'campus police fun bus' and then paint it pretty colors, but that doesn't change the fact it's a piece of military equipment that is unnecessary and sends the message that local officials are at war with students."
The background: Through the Department of Defense's (DoD) 1033 program, the school district obtained the Caiman, which is worth $689,000, basically for free. They only had to pay $5,000 in transportation costs. So they paid $5,000 for a huge armored vehicle to do what exactly?
"There will be medical supplies in the vehicle. There will be teddy bears in the vehicle. There will be trauma kits in the vehicle in the event any student is injured, and our officers are trained to give first aid and CPR," SDUSD Police Chief Ruben Littlejohn told KPBS about the planned uses for the vehicle. 
Davis Police Chief Landy Black assured the City Council in late August that the MRAP will used in instances "to perform rescues of victims and potential victims during active shooter incidents." But in light of the city's disapproval and the media frenzy about the disturbing police militarization that swept Ferguson, Mo., into disarray, the City Council requested that Black jettison the Caiman. 
But the state of California has welcomed a startling number of military items through these federal programs since 2006. The New York Times reported that California police forces have acquired, "8,533 surplus assault weapons, shotguns and pistols, as well as 7,094 pieces of night-vision equipment, the highest allocation of any state in those categories, according to the Defense Department. Over that period, it also received 49 armored vehicles, with only Texas and Florida obtaining more; 59 helicopters and airplanes, second to Florida; 2,370 knives and bayonets, second to Texas; and 18 grenade launchers for tear gas and smoke grenades, trailing Florida and North Carolina." Combine all that with the fact that SDUSD's new MRAP is coming at a time when the district's crime rate is on the decline, and something's just not quite right here. 
Is there anything that may change the excessive militarization of our police force? Possibly. President Obama ordered a review of the programs that gives excess military equipment to law enforcement agencies. Reportedly, Obama is leaning towards harshly restricting them or canceling them all together.
But while the government takes its time to slowly review and possibly reform DoD programs, police agencies and now even school districts will continue to get surplus military equipment that they ultimately don't need. As the school year gets underway, it's a scary notion that armored vehicles, some even with turrets, will be out there right alongside many young students across the U.S. 
h/t NPR