This Colorado Teen Is Championing Gun Safety With One Innovative Idea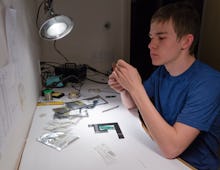 Smart Tech Foundation
The news: A Colorado high school student, Kai Kloepfer, has developed a way to make guns exponentially safer: a fingerprint scanner that unlocks the weapon.
Just 17 years old, Kloepfer built a prototype gun that uses biometric fingerprint authentication to activate it. It is an extremely smart, innovative and simple approach to bring smarter and safer guns to the market. 
The details: In order for the gun to work, the user must create a fingerprint user ID. Each person given access to the firearm will be assigned a unique ID used to unlock it for firing. 
Kloepfer conceived of the idea after the July 2012 shootings in Aurora, Co., which is only an hour from where he lives. "The idea came to me right as I was falling asleep. It was kinda in the back of my mind because of the shooting. I scribbled it down before I went to bed and fell asleep and then in the morning I began my research," he told Tech Crunch. 
Originally developed for a high school science project, Kloepfer's idea has blossomed into a plastic prototype that helped him win the Smart Tech Firearms Challenge, which has a $50,000 prize. He has also has since founded Aegen Technologies, which will focus on developing and eventually selling smarter guns. 
The takeaway: Kloepfer is not the first person to have the idea to build a smarter gun. Identilock is well into developing a biometric gun lock, and Armatix has already created a gun that grants permission to the user from a stopwatch relying on radio frequency. However, that doesn't diminish anything Kloepfer has achieved with his simple and efficient system. Plus, is it even possible to have too many good ideas to fix America's gun problems?
As Mic previously reported, Americans have the highest rate of firearm ownership in the world at 88.8 guns per 100 people and "an American is 20 times more likely to die by gunshot than a resident of another developed country." Clearly, something needs to change. Hopefully Kloepfer's idea will help make that happen. 
h/t Tech Crunch