The World's Best Skyline Isn't the One You Think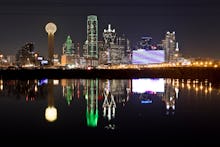 AP
If you guessed New York, Shanghai or Toronto, try again. The winner is Dallas. 
The third largest city in Texas received the crown from USA Today's Best International Skyline contest, which had readers choose their favorites from a group selected by 20 practicing architects. Second place went to Chicago, while Hong Kong, Toronto and Rio de Janeiro (#8, #4 and #3 respectively) were the lone non-American winners. 
Dallas was chosen in part for its "colorful interactive lighting," which ensures that travelers flying into the Dallas/Fort Worth International Airport receive a unique (and bright) view of the city. Here's the full list of winners: 
1. Dallas
2. Chicago
3. Rio de Janeiro
4. Toronto
5. New York
6. Washington, D.C.
7. St. Louis
8. Hong Kong
9. San Francisco
10. Seattle 
This may come as a surprise. Dallas isn't often the first name to come up when discussing beautiful skylines — that honor is usually reserved for Chicago or New York. Part of this may be because it's not considered iconic in the same way those cities are; it's smaller and it also doesn't have quite the same level of mystique. 
There's no denying that it looks fantastic at night, however. The Reunion Tower — a tall, angular structure that includes an observation deck and a collection of cafes and shops — changes its colors for holidays and special occasions, while the Bank of America Plaza is outfitted with electric green lighting. 
This isn't the first time Texas has been honored for its distinctive landmarks; it also won first place for its 'Big Tex' statue in USA Today's Best Quirky Landmark contest. While it may have lost out on that 2016 RNC Convention bid, at least it still has its pretty skyline.
h/t Dallas News