A Vikings Fan Fixed His Adrian Peterson Jersey in the Best Way Possible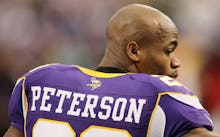 Getty Images
On Friday, it was reported that Minnesota Vikings running back Adrian Peterson had been indicted on charges of child injury in Texas. Early Saturday morning, Peterson turned himself in and was "booked on a  charge of injury to a child before posting $15,000 bond and being released," USA Today reported. According to a letter released by Peterson's attorney, "The charged conduct involves using a switch to spank his son."
Soon after the news broke, the Minnesota Vikings announced he would not be playing in this Sunday's game. But that didn't stop one Vikings fan from wearing Peterson's number 28 ... but with a slight modification.
Phil Hecken tweeted out this pic submitted by a Uni-Watch.com reader who replaced Peterson's name with 1-800-4-A-CHILD, the number for the Childhelp's National Child Abuse Hotline, an organization that, according to its website, "has helped connect individuals with the information or people they need as they confront child abuse in their lives, whether they are a child, parent, teacher or a concerned school administrator."
It was a simple gesture, but a powerful one that trying to bring attention to an often neglected problem in America. According to Childhelp, a national non-profit organization that helps victims of child abuse and neglect, "a report of child abuse is made every 10 seconds, more than four children die every day as a result of child abuse [and] the estimated annual cost of child abuse and neglect in the United States for 2008 is $124 billion."
h/t SI.com