14 of the Biggest Hits This Year Have Come From the Same Man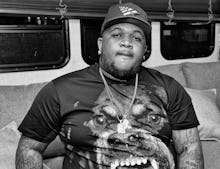 If you've been to a club or listened to the radio in the past 12 months, you've noticed it. Take "Paranoid," a track from the singer Ty Dolla $ign. Maybe "2 On" by Tinashe, or "Who Do You Love," a collaboration between YG and Drake. All three are streamlined and propulsive, built around just a few notes, guiding the listener with very little melodic information, in the manner of early hip-hop. They've all been big hits and they all came from the same man — DJ Mustard.
Mustard, real name Dijon McFarlane, got his start at a young age, DJing parties in Los Angeles during high school. He told Complex, "It wasn't like a goal of mine to be a big producer," but when his friend, the rapper YG (who released the highly-acclaimed album My Krazy Life earlier this year), needed some beats, Mustard stepped up. And he started coming up with big songs for other musicians, too. His first hit beat, for Tyga's "Rack City," came out in 2011. A menacing three-note bass line rides a rhythmic bed of shouts and snaps. That was the start, but it wasn't until his next hit, 2 Chainz's "I'm Different," released about a year later, that he really caught fire. 
According to Billboard, the now-24-year-old Mustard has been on an unstoppable winning streak. He has "charted six top 10s on Billboard's Hot R&B/Hip-Hop Songs chart and 14 hits on the Billboard Hot 100" over the last year, they report. He's scored repeatedly with songs like Ty Dolla $ign's "Or Nah," but it can be hard to predict exactly which Mustard song will strike a nerve. A Mustard beat doesn't need much besides a little riff, usually on keyboard or synthesizer, the constant chant of "hey" running in the background and those finger snaps. Generally, the fewer notes the better: His most compelling production is brash in its simplicity, stripping away all the extra elements until only sinewy momentum remains. Mustard tracks make other beat-makers look foolishly excessive and self-indulgent. This is simple, catchy music at its best, and it's winning again and again.
Perhaps the biggest testament to the producer's success is the way his sound has quickly been copied and pasted into hits he didn't make. (It should be noted that Mustard himself has been accused of stealing his sound from the Bay Area.) The most prominent example of imitation is Iggy Azalea's inescapable, spare "Fancy." But that beat is not the only culprit. Beyoncé's "Partition" mimics Mustard's flow, as does the New York rapper Mase's comeback track "Nothing," R&B singer Jeremih's "The End" and Migos' "Fight Night."
Mustard's success, though, has more to do with his affinity for dance music than his skill at hip-hop beat-making. His sound stems heavily from dance music — not EDM, which rules the present moment, but an early '90s club sound reviving through acts like Disclosure. Observing the rap scene, Mustard noted to Complex, "[T]here's nobody that can do the up-tempo." So for Kid Ink's "Show Me," Mustard built the song around a slowed-down riff from "Show Me Love," a smoldering 1993 track by the belter Robyn S that's built for dance floors. "Don't Tell 'Em," Mustard's latest to storm the charts, and TeeFLii's "24 Hours," which Mustard also produced, both cut a similar path.
Some would call him repetitive, but consistency like this suggests that Mustard is probably a musical genius. Picking what he wants from previous styles and merging them in a lean, efficient fashion, Mustard has created a highly successful template that dominates in a variety of genres. Evolution is especially crucial in a music world that moves faster than ever (as evidenced by the beat-makers already hot on Mustard's trail). But Mustard moves faster. He's hitting the road with Skrillex, another producer who became a mega-star with cross-genre capabilities before he ever released an album. And as one year of DJ Mustard comes to a close, another may well be beginning.