Urban Outfitters Just Made a Huge Mistake With This Very Offensive Sweatshirt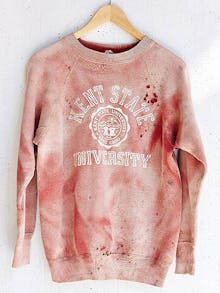 This "vintage" Kent State University sweatshirt briefly went on sale Sunday night at Urban Outfitters for just $129. 
To the amateur fashionista, this may look like a unique take on the classic college sweatshirt. But to anyone with a cursory knowledge of American history, however, it looks more like a reference to the shooting massacre at Kent State on May 4, 1970, when four unarmed college students were killed and nine wounded by Ohio National Guardsmen during a Vietnam War protest at the university. 
Urban Outfitters sincerely apologizes for any offense our Vintage Kent State Sweatshirt may have caused. It was never our intention to allude to the tragic events that took place at Kent State in 1970 and we are extremely saddened that this item was perceived as such. The one-of-a-kind item was purchased as part of our sun-faded vintage collection. There is no blood on this shirt nor has this item been altered in any way. The red stains are discoloration from the original shade of the shirt and the holes are from natural wear and fray. Again, we deeply regret that this item was perceived negatively and we have removed it immediately from our website to avoid further upset.
This isn't the first time Urban Outfitters has had to remove a piece of clothing due to complaints: BuzzFeed notes that the retailer recently pulled a crop top patterned with the word "depression" following customer complaints.