Hillary Went to Iowa and Sure Sounded Like She's About to Run for President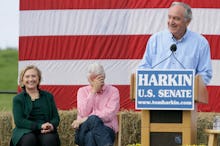 Hillary Clinton made a trip to Iowa over the weekend, and she sounded very much like someone running for president.
"Hello Iowa, I'm baa-aack!" Clinton said Sunday to a crowd of thousands of enthusiastic Iowa Democrats at a steak-fry fundraiser organized by Sen. Tom Harkin (D-Iowa). The event marked her first foray into Iowa politics since losing the state to then-Sen. Barack Obama in 2008.
"It really does feel like just yesterday when I was here," Clinton said. "As I recall, there was a young senator from Illinois there."
Clinton wasn't shy about hinting at her presidential ambitions this time around, either. From the New York Times' report on the event:
"It's true," she said, teasing the crowd. "I am thinking about it."
Clinton appeared alongside her husband, the former president, who held forth with reporters and supporters and seemed to relish the opportunity to get back into campaign mode. The couple grilled steaks before glad-handing with voters and delivering speeches honoring Harkin, who is retiring after 40 years in Congress.
The Iowa caucuses are the first contest in the presidential nominating process, and Clinton's loss in 2008 was a blow from which her campaign never fully recovered. Her trip this weekend was widely seen as a sign that Clinton's choice is not whether she will decide to run, but whether she will decide to stop running. Right now, she's showing no signs of slowing down.