Phillies Pitcher Ejected After Losing His Cool in Worst Possible Way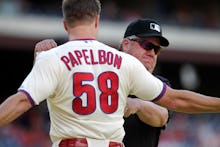 Jonathan Papelbon showed how not to leave a game Sunday afternoon in Philadelphia.
Shortly after surrendering four runs in the ninth inning of a 5-4 loss to the Marlins, the combustible Phillies closer left the field in ways that brought back memories of John Rocker at his most unstrung. As if getting booed by more than 30,000 angry Philadelphia fans wasn't already bad enough, Papelbon managed to be ejected by umpire Joe West for grabbing his crotch in the direction of the fans on his way to the dugout.
Papelbon wasn't quite finished even after his grotesque display. Once tossed, he sprung from the dugout to confront West and fellow umpire Marty Foster, leading West to restrain the right-hander to wrangle him off the field.
Not surprisingly, the incident was headline-grabbing news amid a dismal season in Philly, landing on the back page of Monday's Daily News.
Image Credit: Philadelphia Daily News
Philadelphia fans are notoriously tough, but Papelbon essentially tossed gasoline on a fire with his lewd reaction. After the game, the 33-year-old showed no remorse, saying: "When I'm out there and in the moment, the fans are irrelevant to me. I don't see them. I don't hear them. To me, this is pretty stupid, to be totally honest with you."
We're sure he'll remember that the next time, too.