A Ukrainian Stuntman Just Risked His Life in a Fantastic Act of Defiance Against Russia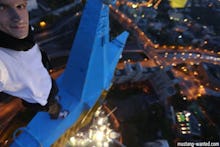 The news: Ukrainian adventure-seeker Pavel Ushevets, who goes by "Grisha Mustang Wanted" online, is a man on the run. His crime: painting a Stalin-era skyscraper in central Moscow with Ukraine's national colors. 
Russian authorities are demanding Ushevets' arrest after allegedly, with the help of six accomplices, he placed the Ukrainian flag atop the spire of the skyscraper on the Kotelnicheskaya Embankment and painted the spire's Soviet star in yellow and blue, the national colors of Ukraine, on Aug. 20.
ITAR-TASS reports that Ushevets is now on an international list of wanted criminals for his spectacular deed. The rooftopper has been charged with hooliganism, which carries a sentence of up to seven years imprisonment. 
Here's a (very) rough translation of the message he posted on August 22nd on his Facebook page, per Google Translate:
Dear compatriots, dear Russians, as well as the valiant guards of law in Moscow. I, Gregory (aka Mustang Wanted), a citizen of Ukraine, not forced to be witty for a confession to make, aimed at liberation accused of hooliganism innocent Russian citizens who have every chance of becoming victims of a well-known for his fairness of Russian justice. I am the same person who in a fit of sincere patriotic sentiment climbed to the roof of the skyscraper on Tinkers waterfront, and decorating her star repainted in the colors of our native Ukrainian flag, and then there's also raised the flag of independent Ukraine, as I have the photos and videos evidence.
The background: Ushevets has a reputation in Ukraine and Russia as "an urban climber known for his fearless stunts all over Europe," reports Pangea Today.  His four suspected accomplices in the Kotelnicheskaya Embankment incident, two men and two women, claimed that "they jumped from the skyscraper on parachutes," before denying painting the star blue or hanging any flags on the building. All four face vandalism charges and face seven years if convicted. Two more suspects were arrested shortly afterwards, one for unrelated drug charges. Charges against Ushevets only came Friday. 
The Moscow police publicized the footage (below) of the suspects' getaway, which involved parachuting off the 577-foot-tall building. 
The takeaway: Four of the six suspects have denied any wrongdoing and have been placed on house arrest. Of the two others, one has been detained until Oct. 19 and the other is being charged with drug possession. Meanwhile, Ushevets continues to evade Russian authorities. RIA Novosti reported on Friday that Ukraine won't extradite to Russia, according Ukrainian interior ministry adviser Anton Herashchenko.
With the current Ukraine-Russia ceasefire wearing thin and the future of Ukraine uncertain, Ushevets' prank may end up a new folk legend for Ukrainians wary of Russian aggression.