The Ray Rice Video Inspired Thousands of Americans to Do One Important Thing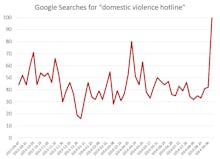 The strong media outcry over the NFL's tolerance of domestic violence has produced one silver lining: More people are now aware of resources like the National Domestic Violence Hotline that can help them escape abusive relationships.
Last week, more people Googled "domestic violence hotline" than any week in the past year.
You can see the incredible increase in Google searches for "domestic violence hotline" in the chart below. The spike at the end represents the increase in searches last week.
Source: Google Trends. Google Trends scores the popularity of a search term between 0 and 100.
That spike at the end represents the increase in searches last week.
Many of these searches translated into real action.
Phone calls to the hotline jumped 84% in the first two days following the Ray Rice video leaked, to over a thousand calls per day.
The facts of domestic violence are tragic. "1 in 4 women have been the victim of severe physical violence by an intimate partner in their lifetime", according to a report by the Centers for Disease Control and Prevention (CDC). And a startling 24 people per minute in the U.S. suffer rape, physical violence, or stalking by an intimate partner.
But resources like the domestic violence hotline offer assistance to those living in constant fear and threat of violence.
The National Domestic Violence Hotline is 1-800-799-7233 | 1-800-787-3224 (For Deaf).
(For victims of domestic violence, note that the hotline's website warns that Internet usage can be monitored by the abusive partner. It may be best to call directly.)