A Mother Is Fighting to Keep Her Dead Son's Husband From Receiving Equal Rights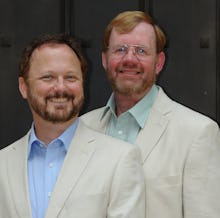 Grieving the loss of a life companion and best friend is tough. But when that grief is compounded by needless, frivolous legal battles involving your anti-gay in-laws, an already sad situation turns truly tragic.
That's the unfortunate reality created by one Alabama mother who is currently locked in a legal battle with her son's partner over details of his estate. Pat Fancher doesn't want her son's significant other to be awarded the money from a wrongful death lawsuit. The issue? Her son David married a man. 
Image Credit: David Fancher via Google+
David Fancher and husband Paul Hard were married in Massachusetts in 2011, reports AL.com. Just a few months later, Hard rushed to the hospital after hearing that David had been in a car wreck outside Montgomery, Ala. There he was told he could not access any information about his critically injured partner because he has no marital rights in the state of Alabama.
In an interview with the Huffington Post this year, Hard recalled how he waited for 30 agonizing minutes before an orderly took him to Fancher's room:
Hard asked if Fancher was badly hurt. "Well, he's dead," the attendant said, according to Hard. Hard's knees gave out. He reached for the attendant, but the attendant stepped away. Hard collapsed.
But the story didn't end there. Hard filed a wrongful death lawsuit but was unable to collect any portion of the money because in the eyes of Alabama he was neither a spouse nor a blood relative. That's when the Southern Poverty Law Center stepped in, seeking to "overturn Alabama's 1998 Marriage Protection Act, which bans the recognition of same-sex marriages from other states." 
"Most married couples take for granted that if tragedy strikes they can proceed through the worst of times without the state saying at every turn that their marriage doesn't even exist," Hard said in a February statement. "Marriages are significant, and my marriage is due the same respect as any other."
The case took another problematic turn, however, after Fancher's mother, an avowed Christian woman, got wind of the lawsuit. In a motion approved by the court, Pat Fancher argued that she "does not want her son's name used to advance the cause of same sex marriage."
She obtained help from conservative legal group Foundation for Moral Law for her cause. "We here at the Foundation agree with Ms. Fancher," the foundation said in a statement obtained by AL.com. "Ms. Fancher and the majority of Alabamians, believe marriage is an institution established by God for the governance of the most basic unit of society, the family, and this institution is intended to be between one man and one woman. The Foundation will protect not only Ms. Fancher's beliefs and interests, but also the right of Alabama citizens to preserve the traditional definition of marriage."
Although Pat Fancher says she "loved her son very much" and had what she calls a "good relationship" with him, her glaring disagreement with his sexuality is now creating a nasty family battle — one in which another man who also deeply loved her son is being cast aside to the margins not only by a faulty legal system, but also by the mother of his now-deceased husband.
"I don't quite know how to interpret that," Hard told the Huffington Post, regarding his mother-in-law's actions. Besides seeking to overturn Alabama's gay marriage ban, Hard also hopes to change his husband's death certificate to reflect their union, something left out of the official record by a funeral director citing state law.
"If I can spare one other person that kind of indigity and hurt, I would do it," Hard told AL.com. "If I can let people know how this law unjustly and cruelly affects people, I will do it. And ultimately I hope that these laws are overturned so that it now longer can give folks permission to treat Americans as second-class citizens [sic]."
(h/t Towleroad and The New Civil Rights Movement)