This Badass Pageant Shows Miss America What True Beauty Really Looks Like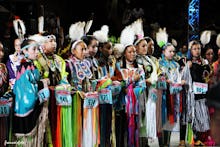 The news: When Kira Kazantsev was crowned the new Miss America on Sunday night, a feeling of déjá vu set in.
Not only was she white — like all but nine of the 94 winners before her — she also fit snugly into a narrowly defined standard of Western female attractiveness: early 20s, long flowing hair and a thin, painstakingly tanned physique that would not seem out of place in a Victoria's Secret catalog.
Critics have long bemoaned this problematic ideal, especially in regards to influential pageants like this one. And they make a strong point: Why is America's largest distributor of college scholarships for women judging its recipients based in part on how they look in a bikini? Others dispute whether the antiquated event should even exist to begin with. 
Yet amidst all the debate, it seems inevitable that alternative contests would arise. Enter the Miss Indian World pageant:
In many ways, this unique pageant's definition of what American beauty truly entails is the ideological antithesis to Miss America. Indeed, since 1984, this five-day competition based in Albuquerque, N.M., has honored Native American woman for their contributions to their communities, not their bikini bodies. The top award is given to the contestant who "best represents her culture," according to Al Jazeera.
Here are six more reasons why Miss Indian World is a far more badass alternative to the typical American event:
1. It's NOT a "beauty pageant."
"It's not a beauty pageant and it never has been," contest coordinator Melodie Matthews told Native Peoples magazine. 
And she's right: The currency rewarded at Miss Indian World is not looks, but "cultural knowledge" — a quality determined by a panel of 25 judges through a personal interview, public speaking assessment, essay submission and dance competition.
While the actual judging process is relatively opaque, the message behind the standards remains abundantly clear: Leave your spray-tan at home, it won't save you here.
2. It takes place at the world's biggest powwow.
Miss Indian World isn't even the biggest cultural event taking place in Albuquerque that weekend in April.
The Gathering of Nations Powwow (GON) — the largest such gathering of indigenous people in the world, according to Al Jazeera — is the celebratory backdrop against which the pageant is set.
Al Jazeera reports that GON draws an estimated 112,000 people to the area, resulting in a regional economic impact of up to $21 million and making it a fixture of New Mexico life for the past 31 years. Not to mention, the images it produces are stunning.
3. Every winner is a woman of color.
Miss America's race problem has been well-documented: According to PBS, the notorious "rule number seven" implemented in the 1930s held that pageant contestants "must be of good health and of the white race" in order to be considered. 
It wasn't until 1941 that the first Native American contestant (Miss Oklahoma) competed, and then it was 30 years more before the second one. The first black Miss America wasn't crowned until 1984.
The overwhelming whiteness of the Miss America pageant is distinctly absent at Miss Indian World, however. The former can be seen as a "nationalist impulse to promote a particular notion" of gender performance and whiteness, Oberlin University Professor Wendy Kozol told Al Jazeera.  Miss Indian World, on the other hand, can be read as a full-on celebration of women of color.
4. There's no bikini contest.
You won't see Miss Indian World parading around in a bikini, or evening wear for that matter — the contest's overwhelming emphasis on "cultural knowledge" leaves little room for that.
What you will see is the maintenance of what Al Jazeera calls a space for Native women to combat "stereotypical notions of the 'Indian maiden' or the disappearing Indian." Simply put, the "beach body" is not a factor here.
5. When the apocalypse comes, you want these women on your team.
One of this year's runners-up, 23-year-old Megan Leary of Napaimute, Alaska, demonstrated she is ready for pretty much anything. She drives a snowmobile, fixes boat engines and carries a .243 Winchester rifle when hunting moose, Al Jazeera reports. 
Other contestants demonstrate their proficiency with bows and arrows during the talent portion of the competition. No plastic cups here.
Just your typical day at the pageant, folks.
6. It helps preserve and promote a culture too often overlooked by its neighbors.
Megan Young, who won the contest in 2007, told Native Peoples she saw the victory as an opportunity to raise awareness about her nation: "At the time, she felt there weren't a lot of people who knew there was a federally recognized tribe in Alabama," the report reads. (Young hails from the Porch Band of Creek Indians.)
Opportunities to celebrate individual indigenous groups on a large scale are rare — especially in a country that's historically been committed to eradicating Native cultures. Not to mention, it's a chance to combat negative stereotypes: "It's empowering for people to understand and break away from that ignorance," Young told Native Peoples.
Ambassadorship remains a key part of wearing the Miss Indian World crown. This year's winner, Taylor Christianna Thomas of Fort Hall, Idaho, is now serving as a sort of cultural envoy to indigenous people worldwide — from the United States and Canada all the way to New Zealand, according to the event's Facebook page.
Takeaway: Considering the attention lavished on a 94-year-old pageant that celebrates a remarkably narrow (read: white) standard of beauty in Miss America, it's refreshing to see women rewarded for less superficial attributes as well.
And although the Miss America contest has made progressive strides of late — mostly via the platforms competitors have chosen to endorse, from domestic violence awareness to positive body image — it remains, at its core, tied to a vapid and fleeting standard of beauty.
The qualities rewarded at the Miss Indian World pageant, however, last a lifetime. These are the attributes we should really be celebrating.