Former Auschwitz Guard Finally Charged With Accessory to 300,000 Murders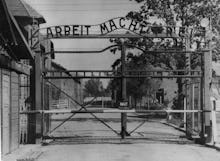 Seventy years after committing the crimes, a 93-year-old man has been charged with 300,000 counts of accessory to murder for serving as an SS guard at the Nazis' Auschwitz concentration camp, prosecutors told the Associated Press on Monday.
The man, who wasn't identified, disposed of the luggage new prisoners left on train tracks at the concentration camp, Sabine Stuenkel, spokeswoman for Hanover prosecutors, said in an e-mailed statement today.The goal was to "hide traces of the mass murder for subsequent inmates," Stuenkel said. "Above all, his task was to count banknotes taken from the luggage and transfer them to the SS's economy and administration agency in Berlin."
Bloomberg News reports that Groening "knew the inmates who were selected upon arrival and classified as 'not capable of working' ... would be put to death in the gas chamber," according to prosecutors, and the money he collected while on duty at the concentration camp "helped fund the Nazis and supported the systematic killing."
"Many of the co-plaintiffs are among the last survivors of Auschwitz," Thomas Walther, who represents 20 Auschwitz victims and their families, told the Associated Press. "[It's their last chance] to participate in bringing justice to one of the SS men who had a part in the murder of their closest relatives."
Editors Note: Mar. 3, 2015 
An earlier version of this article cited Bloomberg's reporting, but did not include quotations around the cited passage. The story has been updated to fully attribute the Bloomberg's language. In addition the article failed to cite a passage from the Independent in accordance with Mic editorial standards. The article has been updated to properly attribute the language to the Independent.