Burlington, Vermont, Just Did What No Other City Has Done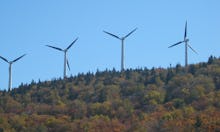 redjar/Flickr
The news: With electricity prices rising across the country at the fastest pace in years, the city of Burlington, Vt., looks well-prepared for the future.
On Monday, the largest city in Vermont announced that it now has 100% renewable energy — from biomass, wind, hydro — to meet the needs of its 42,000 residents.
"We're now in a position where we're supplying Burlington residents with sources that are renewable," Ken Nolan, manager of power resources for Burlington Electric Department, told the Burlington Free Press. "The prices are not tied to fossil fuels — they're stable prices — and they provide us with the flexibility, from an environmental standpoint, to really react to any regulation or changes to environmental standards that come in the future."
It actually makes economic sense. Aside from the obvious environmental benefits, there is a long-term economic payoff as well. According to Burlington authorities, there won't be any rate increases right now, and when the bonds for the city's latest hydroelectric station are paid off, there will actually be cost savings in the future.
"A lot of times when you buy plants like this, you end up having to increase rates initially to drop them later," Nolan said, "And we were able to buy it without any impact and then lock in the benefits in the future."
There will be times during which the wind and hydro energy won't be enough, forcing the utility authorities to buy power from traditional fossil fuel sources. But during times of surplus, the difference can be sold off to turn a profit.
The rest of Vermont is getting in on the action. Burlington is not alone in this endeavor: Cities across Vermont are switching to renewable energy, and the state aims to get 90% of its energy from renewable sources by 2050.
"It shows that we're able to do it, and we're able to do it cost effectively in a way that makes Vermonters really positioned well for the future," Christopher Recchia, the commissioner of the Vermont Department of Public Service, told the Associated Press.
For the climate-change skeptics among us, charts and maps about changing weather patterns might not be convincing enough to trigger a switch to renewable energy — but perhaps this economic argument is.