Here's What Book You Should Read Next, Based on Your Favorite Classics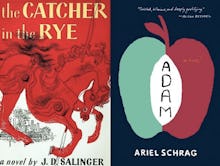 We all have a favorite classic novel, a book tested by time and proved worthy of our love. What can be harder is finding a new book that holds the same importance and appeal — not because those excellent new books don't exist, but because not enough time has elapsed to distinguish 2014's literary gems from all the rest.
1. If you like 'Sense and Sensibility,' read 'Friendship.'
Jane Austen's Sense and Sensibility strikes the heart because of the deep love between sisters Marianne and Elinor. As the sisters grow up and experience heartbreak, they learn what it means to be adults and how to appreciate the best traits in each other. Similarly, Friendship by Emily Gould focuses on two female best friends who are learning the difference between getting older and growing up. Gould explores how their friendship evolves as the two women try to help each other while fighting against their own incorrect impulses. 
2. If you like 'A Wrinkle in Time,' read 'The Bone Clocks.'
A Wrinkle in Time by Madeleine L'Engle won the 1963 Newbery Medal for its captivating story of two siblings who embark on a quest through time and space to find their father. The novel focuses on the love of family and friendship, while maintaining its intrigue and mystery. The same can be said of The Bone Clocks by David Mitchell, author of Cloud Atlas, which also begins in a fantasy world where trouble at home sparks the adventure. Holly is psychic and has caught the attention of dangerous enemies. When a disappearance shocks her family, she devotes her life to finding answers to the mysteries that plague them. 
3. If you like 'The Lord of the Rings,' read 'Half a King.'
The Lord of the Rings is the epic fantasy trilogy to rule them all, tracing a quest to protect Middle Earth from evil. Half a King by Joe Abercrombie is another story of a quest in a surprising and enticing fantasy world. When a coup topples Yarvi from the throne, he must avenge his father's and brother's deaths and dislodge his uncle from power. George R.R. Martin, author of Game of Thrones, calls the book "a fast-paced tale of betrayal and revenge that grabbed me from Page One and refused to let go."
4. If you like 'Sherlock Holmes,' read 'The Black-Eyed Blonde.'
Sherlock Holmes left big shoes for any mystery novel to fill. But Benjamin Black's Philip Marlowe series gets close, with another irresistible private eye. The most recent installment, The Black-Eyed Blonde, stars Marlowe helping a seductive young heiress find her former lover. However, when he starts his search, he discovers this mystery is not as simple as it seems, and that the lover's disappearance is just one in a series of bewildering events. 
5. If you like 'The Great Gatsby,' read 'We Were Liars.'
It may not be the most intuitive to suggest a new young adult novel for lovers of The Great Gatsby by F. Scott Fitzgerald, but these two reads have more in common than meets the eye. We Were Liars by E. Lockhart also scathingly critiques capitalism and the lies that pass for truth in the upper class. Both novels are quick reads with deeper messages and unforgettable characters that will stick with you. 
6. If you like 'Hard Times,' read 'Sing in the Morning, Cry at Night.'
Hard Times by Charles Dickens takes place in a mill town in northern England, focusing on the economic difficulties pressuring members of all levels of society engaged in the mill. In typical Dickens fashion, he has many characters, all complex and facing their own tragedies. Sing in the Morning, Cry at Night by Barbara J. Taylor covers a similar topic, an early 20th-century coal-mining town. Like Dickens, the novel traces family tragedy, in this case the town blaming 8-year-old Violet Morgan for her older sister's death. As her parents fall victim to their own vices, Violet learns how to form her own friendships to survive. 
7. If you like 'The Metamorphosis,' read 'Colorless Tsukuru Tazaki and His Years of Pilgrimage.'
The famous novella by Franz Kafka begins when a traveling salesman, Gregor Samsa, wakes up one day to find himself transformed into a humongous insect. Without explanation of the transformation itself, The Metamorphosis dives into Samsa's attempts to deal with the aftermath. Colorless Tsukuru Tazaki and His Years of Pilgrimage by Haruki Murakami doesn't start with the same shock, but is reminiscent of Kafka in style. Like Kafka, Murakami establishes an ambivalent atmosphere facing a young man haunted by loss. The narrator, who remains nameless, struggles with nightmares that blur the lines between reality and an alternative world. Murakami, who also wrote Kafka on the Shore, was clearly influenced by Kafka, and it shows.
8. If you like 'The Catcher in the Rye,' read 'Adam.'
The Catcher in the Rye is famous for its exploration of teenage angst from the perspective of the self-reflective Holden Caulfield. Adam by Ariel Schrag features a similarly self-reflective teenager coming of age. Adam goes to live with his older sister Casey in New York with the hopes that his life will change, and it does. Casey introduces him to the LGBT activist life, where Adam meets a girl and falls in love. But nothing is as simple as it seems, as the author explores identity, love, attraction and self-definition.
9. If you like 'The Sun Also Rises,' read 'Every Day Is for the Thief.'
The Sun Also Rises by Ernest Hemingway focuses on American and British expatriates living in Paris, exploring themes of love, death and masculinity. Teju Cole tackles similar themes of dislocation with prose that echoes Hemingway's spare style, winning the PEN/Hemingway Award in 2012. Every Day Is for the Thief follows a young Nigerian living in New York City who returns home for the first time in 15 years. In reconnecting with his previous life, he slowly comes to learn new truths about his country and himself.  
10. If you like 'To Kill a Mockingbird,' read 'Fourth of July Creek.'
The iconic American novel by Harper Lee is remarkable for its exploration of issues like rape and racial inequality, while still remaining warm and hopeful. It's famous for lawyer Atticus Finch's efforts to save a black man from an unjust death sentence. PEN prize-winning author Smith Henderson explores similar complexities of freedom and community in modern America in Fourth of July Creek. Social worker Pete Snow tries to help an undernourished 11-year-old living in the wilderness, but finds himself facing the boy's disturbed father. At the same time, Pete's own family is falling apart, and the FBI starts to take interest in Pete's activities. This novel encompasses modern difficulties in taking a stand for equality in America. 
11. If you like 'My Ántonia,' read 'The Invention of Exile.'
My Ántonia by Willa Cather explores immigrant life on the American frontier in the 19th century. It outlines its protagonists' hardships, homesickness and difficulty adapting to the language, cultural and religious standards of American settlers. The Invention of Exile by Vanessa Manko follows a Russian immigrant to Connecticut in 1913. Despite falling in love and finding a home, he is wrongly accused of attending anarchist gatherings and must flee back to Russia. As he and his wife struggle to maintain their family across continents, Manko examines issues of physical and metaphorical borders and their reflection on the judged mental state of immigrants. 
12. If you like 'Candide,' read 'Lost for Words.'
Candide, Voltaire's famous satire, tracks an optimist through his disillusionment and experiences of hardship that being optimistic just cannot fix. Lost for Words by Edward St. Aubyn takes a similarly scathing pen to the modern literary community. The book follows a panel of judges struggling to determine the best book of the year. Writers vie for their attention, and the judges themselves are far from impartial. Like Candide, this novel brings up big questions about how art and talent factor into our obsession with celebrity and personal agendas. 
13. If you like 'Romeo and Juliet,' read 'The Book of Unknown Americans.'
Romeo and Juliet by William Shakespeare is the ultimate story of doomed lovers. The Book of Unknown Americans by Cristina Henríquez modernizes the well-known literary struggle between love and destiny. Mexican immigrant Maribel and Panamanian immigrant Mayor Toro fall in love at first sight, but their introduction also introduces guilt and responsibility between the two families. The book takes a Romeo and Juliet-style love story to the next level by including testimonials of other immigrants from Latin America, all of whom add to the courageous spirit of the novel.
14. If you like 'The Warrior Woman,' read 'Mambo in Chinatown.'
The Warrior Woman is Maxine Hong Kingston's modernist memoir about growing up Chinese in America. By blending Chinese folktales with reality, she beautifully captures the tension between both cultures in one defiant woman. Jean Kwok's Mambo in Chinatown stars Charlie Wong, an American-born Chinese woman who is torn between duty to her family and her love for ballet. As she begins to explore her self-expression, her sister grows ill, forcing Charlie to bring together her two identities. Both novels are beautiful explorations of living as a Chinese-American and the contrast between personal desire and family obligation.