Inspiring 6-Year-Old Takes on Her Illness in the Toughest Way Possible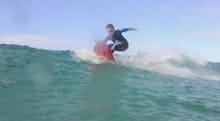 Until Quincy Symonds was 2 and a half, her parents say they spent more time with her in Melbourne hospitals than at their home.
Symonds has a rare adrenal insufficiency condition, which meant her body didn't produce enough cortisone on its own. The little girl is completely steroid-dependent, wears a medical note on a grey bracelet and needs medication three times a day. Just last week, she had to be admitted to the hospital again.
But Symonds hasn't let her illness define or overwhelm her. When she was 4, she discovered the joys of surfing. "If I break my bones or something you can look at this note and know what to do," she said in a video produced by ABC Open that's since gone viral. Her coach, Anthony Pope, who's worked with many top Australian athletes and spent ten years as Surfing Australia's high performance coaching director, says that she's probably the best surfer of her age in the world.
"I don't feel scared in the ocean," Symonds, now 6, says over footage that shows her surfing off the Gold Coast in Australia. "They call me the Flying Squirrel."
The first time she said "Daddy, I want to come surfing with you tomorrow," she did not even know what surfing was. Her raw, natural talent has completely surprised her parents.
"The very first time I saw her out in the ocean, she changed, she became a complete person," her mother Kim Symonds said. "To say that about a 4- or 5-year-old might sound very strange, but I watched it happen."
Her father, who first taught her how to surf, is equally baffled. "It just doesn't make sense to me, how she's able to do what she does," Jake Symonds said. "I'm amazed by it. I'm really proud of it, but to be honest, I can't comprehend how she does it."
The Today Show recently broadcast a segment on the precocious talent. 
From a coaching perspective, Pope admitted he had his doubts at the start of their first session, when they swam to 3-foot waves at the surf break known as Currumbin Alley."There were a lot of surfers looking at me like, 'You shouldn't be out here with that tiny kid,'" he said. "However, after pushing her into a perfect 3-foot wave, she took off down the line, tearing the wave up. I was shocked, speechless and super excited. I knew immediately she was something very special."
Symonds shows all the signs of greatness seen in kickass women surfers like Layne Beachley, Serena Brooke, Heather Clark and Megan Abubo, but her coach and family feel she has a long way to go. "She could stop having fun with it, she could get burn out. There are so many things that prevent athletes from realizing their potential," Pope said.
Her dad has one goal for his daughter, and it's a simple one. "I wish 30 years later," he said, "we both can still go surfing together."