In Two Sharp Tweets, Rihanna Destroys CBS's Abysmal Attitude Toward Domestic Abuse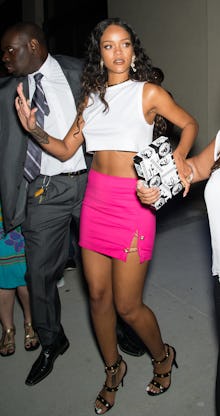 The news: Rihanna is not happy with CBS's decision to cancel her performance before last week's Thursday Night Football game between the Pittsburgh Steelers and the Baltimore Ravens. 
Sensing that an appearance by the singer — who was the victim of a highly publicized domestic abuse incident herself — might bring them some bad press in the wake of the Ray Rice domestic abuse scandal, the network decided to scrap her show. Rihanna wasn't pleased: 
"The audacity" is right. CBS essentially punished the star for being a victim of domestic abuse and put her in the spotlight in the worst way possible to avoid fallout over an incident she had nothing to do with. As Vox put it, the decision to pull her song was laced with "a tacit fear that audience members would have been reminded of the [Ray] Rice video because they associate Rihanna with domestic abuse."
CBS Sports Chairman Sean McManus defended the move, telling Sports Illustrated, "We thought journalistically and from a tone standpoint, we needed to have the appropriate tone and coverage."
Nice try, but no. It was likely a difficult decision to come to, and CBS was admittedly put into a difficult position because of the NFL's terrible handling of Ray Rice's behavior. As USA Today wrote, "Beginning a broadcast with the frivolity of a pop song would have been tone-deaf."
But it wasn't the fact that it was a pop song that CBS likely had an issue with — it was Rihanna's history as a victim of domestic abuse. Its choice to cancel the show came from a desire to avoid a PR nightmare. It was rooted in commercial interests and a fear of public backlash and nothing else. Like the NFL, CBS put its own interests front and center. 
It dismissed a victim of domestic abuse simply because she's a victim of domestic abuse, and that makes it look just as bad. Rihanna was correct to call the network out for it. (CBS took note, and has decided to "[move] in a different direction" with the broadcast.)
CBS may have been battling a potential public relations storm — too bad. Try telling that to the thousands of victims of domestic violence that have once again been sent the message that their abuse takes a back seat to the purse strings of big business. 
h/t Jezebel