Lupita Nyong'o's Beautiful Conversation with Elmo About Skin Color Is Pretty Much Perfect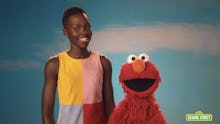 YouTube
The news: Academy Award-winning actress Lupita Nyong'o stopped by Sesame Street recently to chat with Elmo, and it was magical. 
The topic was skin — its function, its characteristics and its beauty — and how important it is to love the skin you're in. "Elmo sees that Miss Lupita's skin is a beautiful brown color," said the furry red puppet. "That's the thing I love most about skin, Elmo," Nyong'o replied. "Skin comes in lots of beautiful shades and colors."
The message is simple yet powerful: It's presented in a way children can understand — this is Sesame Street, after all — but it's a direct and beautiful statement that anyone can appreciate.  
It wasn't always this way, though, as the New York Daily News points out. When she was crowned People magazine's "Most Beautiful Person" in April, Nyong'o told The Today Show, "You could have never told me that that would happen when I was 16 and insecure about my complexion." 
In February, during her speech at the seventh annual Black Women in Hollywood luncheon, she said that her youth hadn't been easy. "I remember a time when I too felt unbeautiful," she told the audience. "I put on the TV and only saw pale skin. I got teased and taunted about my night-shaded skin." 
At the luncheon, Nyong'o also described a letter she received from a young girl who told her that she refrained from using skin-lightening cream because of the actress's success. "I hope that my presence on your screens and in the magazines may lead you, young girl, on a similar journey," she said. "That you will feel the validation of your external beauty but also get to the deeper business of being beautiful inside. There is no shade in that beauty."
With her latest Sesame Street appearance, she's yet again going above and beyond to extend a message of self-appreciation. Keep it up, Lupita — the world could use more wisdom like this. 
h/t The Root