Christian Martial Artists Want to Fight You In the Name of Jesus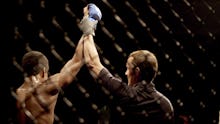 When you think of mixed martial arts, you think: UFC, over-the-top press conferences, violent bouts, Dana White as the bro's bro, Affliction T-shirts and an entire subculture that exists to prove there is no such thing as too much testosterone.
It turns out, there is another way to think about MMA. A film called Fight Church, set for release Tuesday, explores the lesser-known intersection of Christianity and mixed martial arts.
In a clip from the film, a Muay Thai kickboxing contest is being held at Victory Church in Rochester, N.Y. Before one of the competitors steps into the ring, he explains the purpose of the fight: "The whole reason we're having the fight is so we can bring people in and tell them about God, and hopefully through the fight I can create a relationship with the person I'm fighting and extend Christ to him."
He goes onto explain that it's the process that's important, not the result: "If I win the fight, it's because God gave me that fight, it's not anything I've done. It's already been decided who won — it's just you wait to find out what happens."
Via Victory Church's official website, the church not only offers MMA training but has an emphasis on other sports and fitness activities such as dance fitness, archery, general fitness training and more. MMA training and events are available weekly. The goal for the church is to reach out to youths and those who have yet to commit to the religion of Christianity to convert through mixed martial arts.
It's part of a growing trend of the subculture, one that was recently profiled in the New York Times.
"Like many competitive sports, mixed martial arts can be considered violent, but it's not hateful or destructive," Victor Church Pastor Paul Burress wrote for CNN. "It teaches us how to contain and control our most violent impulses through strength, discipline and perseverance — none of which are at odds with Christianity.
"When I step into the cage, I do so to compete, not to kill; there is not an ounce of spite or ill will in my heart. More importantly, my job as a pastor is to help lead people to Jesus, to set them on a better path. To do so, my ministry needs to be relevant, to speak to people on their own terms and in their own language."
It's a unique, and perhaps even controversial, approach that combines a violent sport with a religious pursuit, but for Burress' church and many other places across America, this approach is delivering results.