Sen. Gillibrand Has the Perfect Response to Her Sexist Colleagues in Congress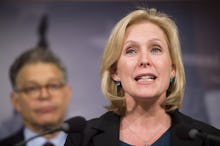 Sen. Kirsten Gillibrand (D-N.Y.) has taken abuse from some of her male colleagues for years, but she kept silent about it until now. In her new book Off the Sidelines, released at the end of August, Gillibrand relayed how male colleagues, including congressional representatives, repeatedly mocked her or treated her like an object. In one incident, a male labor leader harassed the senator for her weight after she was appointed to fill Hillary Clinton's empty Senate seat.
Now the senator is telling all in an effort to build awareness of how casual sexism is still everywhere, even Congress — and she isn't afraid to share her feelings on being harassed, to encourage other women to speak out. On Monday, the senator described in stark terms to HuffPost Live how it feels to be the victim of misogynist, bullying remarks:
I've just had a baby, I've just been appointed [to replace Hillary Clinton in the Senate], I have a lot to learn, so much on my plate, and this man basically says to me, 'You're too fat to be elected statewide.' At that moment, if I could have just disappeared, I would have. If I could have just melted in tears, I would have. But I had to just sit there and talk to him ... I didn't hear a word he said, but I wasn't in a place where I could tell him to go fuck himself.
(Yes, that's the first time a federal politician has said "go fuck yourself" on camera since Dick Cheney.)
Gillibrand explained why sharing her stories was so important:
Women will get these undermining comments at all stages, and in different industries, it can really hurt them. In politics, a statement about a woman's looks, positive or negative, can be very undermining to her credibility. And so I share the stories and I talk about it because I want women to make their own judgments. Know the rules of your road.
Openly discussing the challenges women face, even in positions of power, is critical to helping society move past sexism, especially in an age where growing awareness of problems like military sexual assault, college rape rates or the gender gap in employee pay demand solutions. Gillibrand's willingness to describe the frustration and powerlessness of being sexually harassed adds a much-needed personal element that may resonate with other women.
Gillibrand didn't name the people who treated her so poorly, saying that she'd prefer the issue to support a national conversation, rather than focus solely on criticizing "statements that were being made by men who were well into their 60s, 70s or 80s."
It didn't take long for detractors to accuse Gillibrand of playing up comments that were "no big deal," or for journalists to accuse her of making it up. But sexist harassment of powerful women is clearly widespread. The New York Post mocked Hillary Clinton as a "grandma," former CIA and NSA head Michael Hayden accused Sen. Dianne Feinstein (D-Calif.) of being "too emotionally unstable" to head a committee on torture and Red State's Erick Erickson is fond of calling Texas gubernatorial candidate Wendy Davis "Abortion Barbie."