Public School Districts Are Getting Some Insane Weapons From the Pentagon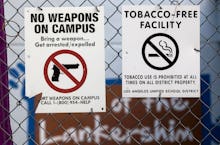 As you might remember from your school days, kids can get pretty crazy. That's apparently why Los Angeles Unified School District police need 61 M-16 rifles, three grenade launchers and an armored vehicle.
The ridiculous police response to protests in Ferguson has shone a light on the militarization of law enforcement in the United States. As the Center for Public Integrity (CPI) explains, there might not be a more disturbing aspect of this trend than the equipment being passed along to public school police.
Like what? Well, the police of the Los Angeles' school district (the second-largest in the country) have all those toys mentioned above. The San Diego Unified School District also has an MRAP — Mine-Resistant Ambush Protected Vehicle — of its own.
In addition to California, school districts in Texas, Nevada, Utah, Florida, Georgia, Kansas and Michigan have outfitted their police with military weaponry and equipment, according to CPI. Texas is the biggest market, with 10 different districts taking part. The Edinburg Consolidated Independent School District, CPI reports, even created its own SWAT team.
"Altogether, these 10 districts have been received 64 M-16 rifles, 18 M-14 rifles, 25 automatic pistols, extended magazines and 4,500 rounds of ammunition," reads one letter opposed to the trend, signed by the NAACP's Legal Defense and Education Fund and other advocacy groups. "Some of these Texas districts received armored plating, tactical vests and military vehicles."
After Ferguson, the 1033 program that allows the Pentagon to pass guns, vehicles and armor along to police has come under significant political scrutiny.
President Obama asked for a federal review of the program, and members of Congress from both sides of the aisle had pretty harsh words for it during a Senate hearing. "While this hearing may reveal many strong arguments why some of this equipment may be helpful for the safety of police officers in certain situations, I am confident that militarizing police tactics are not consistent with the peaceful exercise of First Amendment rights of free speech and free assembly," Sen. Claire McCaskill (D-Mo.) said. 
All in all, the 1033 has provided law enforcement with more than $5 billion worth of equipment, according to the Washington Post. Meanwhile, the Los Angeles Daily News reports, Los Angeles Unified School District Police Steven Zipperman is "re-thinking" whether or not his force needs an armored vehicle and grenade launchers.