13 New Fall Shows Worth Adding to Your DVR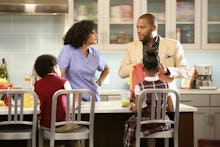 Fall TV is upon us, which means a deluge of new series, many of which won't make it through the season. The few strong and excellent (or at least the highly watched) will make it through and voyage onward toward the holy grail of six seasons and a movie. 
To get your DVR schedule in order to see the ones worth watching, we've picked out the most buzzed-about and intriguing new shows this season. These might not become your new Breaking Bad, but they're worth a chance. You never know which new show could become a favorite. 
1. 'The Red Band Society,' FOX (Sept. 17, 9 p.m.)
If we're talking about the season's most buzzed-about new shows, The Red Band Society tops the list. Based on a successful Catalan series and starring Octavia Spencer and executive producer Steven Spielberg, the show revolves around six teens living in a hospital who band together through sickness. It's narrated by a character in a coma. 
Early reviews have been hit and miss, with a lot of comparisons to The Fault in Our Stars and a few cries of emotional manipulation, but with Spencer in the leading role, it's worth seeing for yourself. 
2. 'The Mysteries of Laura,' NBC (Sept. 17, 10 p.m.)
If we ignore Smash and The Starter Wife and go straight to the genius of Will & Grace, Debra Messing is one of the best television actresses working today. The premise for The Mysteries of Laura — a homicide detective and single mom, adapted from another Spanish series — is a little thin, but there is hope that with Messing (and a little time for the writing to find its footing), the show could give us that funny cop show America is always pining for. 
3. 'Madam Secretary,' CBS (Sept. 21, 8 p.m.)
Madam Secretary already has Mother Jones calling it "a fairly transparent attempt to make Hillary look like presidential timber." Those inside the show say Sen. Kirsten Gillibrand, who is a mother of young children like the lead, Tea Leoni, served as closer inspiration. 
If Leoni as secretary of state doesn't excite you, then perhaps Barbara Hall as the show's creator (she was co-executive producer on Homeland) and the trailer might.
4. 'Gotham,' FOX (Sept. 22, 8 p.m.)
This year's requisite superhero series, Gotham gives us an origin story about the DC comic world, exploring the heroes and villains who become Batman, Catwoman, the Penguin, the Joker, Two-Face and the Riddler. 
The heart of the story is James Gordon, who grows up to be Police Commissioner Gordon. An added treat for The OC fans? Ben McKenzie (aka Ryan Atwood) plays the lead. 
5. 'Blackish,' ABC (Sept. 24, 9:30 pm)
There's a lot of excitement around Blackish, which finally puts a black family back at the heart of a prime-time sitcom. The show stars Anthony Anderson as Andre Johnson, the patriarch of an upper middle-class suburban family desperate to bring some black culture to his children, who are hell-bent on blending in with their mostly white surroundings. 
Laurence Fishburne co-stars and executive produces. Creator Kenya Barris told the Huffington Post, "This is comedy. At its heart, it's a family comedy. It's not a political show ... We wanted to make this show the same way for me, growing up, The Cosby Show was like: 'Oh my God! I want that to be my family.'" 
6. 'How to Get Away With Murder,' ABC (Sept. 25, 10 p.m.)
Two words: Shonda Rhimes. Two more words: Viola Davis. Rhimes is the genius television mind behind mega-hits like Grey's Anatomy and Scandal, and this latest offering is expected to be a hit as well. 
Davis plays professor Annalise Keating, who teaches a class on "how to get away with murder." Her students will have to put her lessons into real-world practice rather soon. 
7. 'Transparent,' Amazon Prime (Sept. 26)
Creator Jill Soloway is sure that Transparent is more than a TV show. "This is a moment," she said during a recent appearance. "It's a perfectly timed creative explosion." And she may very well be right. 
After a year of exciting steps forward for the trans movement, the show could not come at a better time. The story follows 60-something Mort Pfefferman (Jeffrey Tambor) through her transition as Maura and her coming-out process to her family. There has been backlash about a cisgender actor in the lead role, but all-around glowing reviews for the depiction of the character. 
8. 'Gracepoint,' FOX (Oct. 2, 9 p.m.)
If you like your shows picturesque, well-paced and mysterious, Gracepoint will be your fall appointment show. Starring Anna Gunn in a post-Breaking Bad role, the show is a 10-part mystery based on the U.K.'s successful Broadchurch.
The whodunnit follows the murder of a 10-year-old boy in a small, close-knit community. Former Dr. Who star David Tennant shows off his American accent for this one too.
9. 'Survivor's Remorse,' Starz (Oct. 4, 9 p.m.)
Mostly recognized as "that LeBron James show," Survivor's Remorse is not about James, but the plot line hits close. The comedy tells the story of Cam Calloway, a young basketball player with a new and massive NBA contract, as he learns to navigate life as a pro athlete. 
The show has some serious heft behind it. LeBron James is executive producer, Mike O'Malley is the head writer and executive producer and Tom Werner (of The Cosby Show, Martin and That '70s Show fame) is co-creator and executive producer. It's also getting a lot of early Entourage comparisons. 
10. 'The Flash,' CW (Oct. 7, 8 p.m.)
A reboot of the short-lived 1990's show about the fastest man alive, this time The Flash stars Grant Gustin (Glee) as comic book hero Barry Allen. 
The star of the '90s series, John Wesley Shipp, returns to the story as Barry Allen's father. The show is already cropping up on some critics' must-watch lists, including Robert Bianco's at USA Today. 
11. 'The Affair,' Showtime (Oct. 12, 10 p.m.)
The cast is filled with faces you will recognize (Joshua Jackson, Maura Tierney, Dominic West and Ruth Wilson), and the premise is the stuff that good grown-up shows are made of: two very different marriages on the brink of collapse, thanks to an affair. 
The series, which takes place in the Hamptons, moves back and forth through time, and also hints at something far, far darker than just adultery. 
12. 'Jane the Virgin,' CW (Oct. 13, 9p.m.)
The CW took a gamble on this telenovela reboot (originally Juana la Virgen), and it might just pay off. 
The premise is wacky, quirky and just the kind of off-the-wall attitude that can somehow, weirdly, work.
When Jane (Gina Rodriguez) is accidentally artificially inseminated, suddenly Jane the virgin becomes Jane the pregnant virgin. Ben Silverman, who also brought adaptations of Ugly Betty and The Office to the U.S., seems to know what will fly with U.S. audiences. Hopefully his instincts will be right again. 
13. 'Marco Polo,' Netflix (Dec. 12)
Information is scarce for Netflix's pending original series, but what we do know is this: It will be ten episodes long. It focuses on Polo's journey into China back in the 13th century. Italian actor Lorenzo Richelmy plays the lead and Chinese actress Zhu Zhu stars as his romantic interest. For the rest of it, we shall have to wait.