Taylor Swift's "Bad Blood" Is Giving Women a Bad Name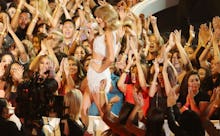 Since the beginning of country/pop singer Taylor Swift's rise to fame, she's never been shy about her relationships. In fact, it's now widely accepted that if you break up with Swift, she will write a "revenge song" about you.
For tween sensation Joe Jonas, it was "Forever And Always" — "'Cause I was there when you said forever and always / You didn't mean it, baby, I don't think so." For singer-songwriter John Mayer, it was "Dear John" — "Dear John, I see it all now that you're gone. / Don't you think I was too young / To be messed with?" And the list goes on.
But it isn't her songs about men that are problematic. It's that she's starting to sing the same way about women.
With the recent build-up to Swift's upcoming album 1989, the question on everyone's mind seems to be, "Who is the (un)lucky guy now?" In her Rolling Stone cover interview, Swift revealed a plot twist that nobody expected: She was going to be dedicating her next revenge song, "Bad Blood," to a woman.
"She did something so horrible," she said, "I was like, 'Oh, we're just straight-up enemies.' And it wasn't even about a guy! It had to do with business."
This has led to speculation on the identity of the woman who got on Swift's bad side — Katy Perry and Selena Gomez have been thrown around, and everyone is getting in on figuring out who crossed the line.
But there's a problem: The whole thing seems very contrived. And it's contrived around a horribly outdated image of what it means to be a woman. The most troubling part is not that Swift turned this into a PR stunt — a kind of "you do you, Taylor" — but that she's feeding into the public's obsession with pitting women against each other.
As Nigerian writer Chimamanda Ngozi Adichie put it in her TED talk, "We raise girls to see each other as competitors — not for jobs or for accomplishments, which I think can be a good thing, but for the attention of men."
This is true especially in the music industry, where female singers are constantly in fights on Twitter, indirectly through songs, at concerts or even at award shows. Rappers Nicki Minaj and Lil' Kim supposedly hate each other because Lil' Kim felt there couldn't be two big name female rappers — yet how many prominent male rappers are there? Sinead O'Connor, meanwhile, wrote an open letter to Miley Cyrus (who said her video for "Wrecking Ball" was inspired by O'Connor's "Nothing Compares 2 U") telling her not to exploit her body for fame and for the industry. And of course the media has eagerly covered both disputes.
Ironically, for someone who frequently writes scathing songs about people, Swift preaches often about not being a hater. She's supposed to be the one who does things differently, awkwardly and thoughtfully. Take her new single from 1989, "Shake It Off," in which she sings that the "haters gonna hate [...] but I'm just gonna shake it off."
Her behavior is problematic. It promotes terrible ideas about women — it casts them as catty and petty. As always, Swift put it best when she told Allure: "There's a special place in hell for women who don't help other women." Maybe it's time for Swift to take her own advice.