Two Lawmakers Want to Keep the Chemicals Out of Your Food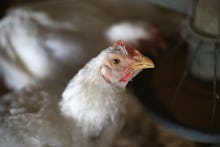 Scott Olson/Getty Images
The news: If you've been concerned about getting a side of antibiotics with your chicken, this might make you feel a bit better. Amid mounting pressure for U.S. poultry companies to be open about their antibiotic use, two lawmakers are calling for transparency measures to be implemented. 
On Tuesday, Sen. Kirsten Gillibrand (D-NY) proposed authorizing the Food and Drug Administration (FDA) to collect information on "farm-level antibiotic use," while Rep. Louise Slaughter (D-NY) indicated that she will bring up the issue at a congressional hearing Friday on antibiotic resistance, Reuters reported.
"Industry has kept data showing the rampant, dangerous use of antibiotics hidden from the public for one reason: to protect corporate profits at the expense of public health," Slaughter said.
Why is this happening? The public backlash follows a recent, high-profile exposé by Reuters, which examined more than 320 internal documents from five major poultry companies — Tyson Foods, Pilgrim's Pride, Perdue Farms, George's and Koch Foods — and found these companies had a standard practice to regularly feed antibiotics to their chickens, and not just when the birds were sick.
While the antibiotics are fed to the chickens in low doses, scientists believe this can provide an ideal breeding ground for superbugs, antibiotic-resistant bacteria that become harder and harder to treat with conventional drugs.
The Reuters investigation has uncovered a possible "systematic source of antibiotic resistance," said Donald Kennedy, a former FDA commissioner and president emeritus of Stanford University. "This could be an even larger piece of the antibiotic-resistance problem than I had thought," he added.
What can be done? While the Reuters findings are concerning, it's hard to make legislative headway without understanding the fine details of antibiotic use in the poultry industry, which is why Gillibrand and Slaughter's calls for transparency are important.
And the pressure is already working. Earlier this month, USA Today reported poultry giant Perdue announced it would stop using human antibiotics on 95% of its chickens and would entirely eliminate all antibiotics in its hatcheries. Similarly, Tyson Foods has its own line of antibiotic-free chicken. It's not much, but it's a start to eliminate a serious public health concern.