One Student's Heartbreaking Letter Sums Up What's Wrong With America's Colleges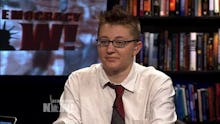 Facebook
The news: The beginning of the school year is supposed to be an exciting time for students, both new and returning. But for New York University junior Lucy Parks, this month marked the ending, and not the beginning, of her academic year.
Earlier this month, Parks withdrew her from dream school for one sad, simple reason: She couldn't afford it anymore.
Last year, Parks realized she would have to take out additional loans for the final two years of her college education, on top of the $15,000 of debt that she was already facing. When the financial office did not offer more aid, Parks made the difficult decision to leave school without receiving a diploma — but not without posting an emotional public letter to the NYU President John Sexton.
Read the full letter below:
"A lot of students do it quietly because of the stigma attached to it. Dropping out is an extremely degrading thing," Parks told NYU Local. "And I wanted to do something empowering. I didn't want to leave without having my voice heard, so I wrote the letter."
And her voice has already triggered a response from her former school. "We respect the choice this student and her family made," NYU representative John Beckman told the Huffington Post. "But we also believe in the value and excellence of the education NYU offers. ... And we believe the strong outcomes for NYU students in terms of finding jobs after graduation or continuing on to graduate or professional school demonstrate that."
NYU doesn't have a great history with financial aid. Despite being one of the most expensive college in the country — with $61,977 in total annual costs for students — NYU also has the highest student debt among non-profit universities: In 2010, the university's total student debt was $659 million, which happens to be greater than the gross domestic product of more than 10 countries.
What's more, despite coming off the most successful college fundraising campaign in history — totaling $3 billion — NYU is still not increasing its financial aid. Under Sexton's tenure, tuition increased by more than $18,000, with only 3% of students having their full financial needs met.
Instead, the school has caught flak for choosing to invest in such worthwhile endeavors as expensive real estate expansion, satellite campuses in Abu Dhabi and Shanghai (under deplorable worker conditions), faculty homes in Manhattan, the Hamptons and Fire Island and turning school housing into a duplex for Sexton's son.
But the rest of America doesn't look much better. While NYU is certainly an extreme example of failing financial aid, higher-education debt is a problem throughout the country. The class of 2014 had the dubious honor of being "the most indebted class ever," with the average student leaving school with $33,000 in debt.
In the past five years, U.S. college tuition costs have increased by 24%, while in the 2004-2012 period, student debt tripled to more than $1 trillion.
Almost any attempts to ameliorate this increasing national problem, such as bills aimed at refinancing student loans at lower rates, have died in Congress. But stories like Parks' remind us that this problem will not go away on its own. And if schools such as NYU continue to prioritize expansion over financial aid, more and more deserving students will end up surrendering their dream of higher education or suffer from mounting debt for years to come.