Trendy NYC Hotel Confuses 3 Black Women Out for Drinks at the Bar for Prostitutes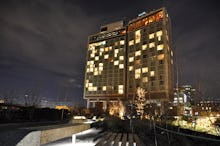 Tom Arthur/Flickr
The news: It's been mere days since Django Unchained actress Danièle Watts, who happens to be black, was allegedly accused of being a prostitute by the LAPD — and news of a similar, earlier incident has already come out.
AlterNet recently reported about three black women — one lawyer and two educators — who went out for drinks at the Standard Hotel in New York City a few weeks ago. After a man approached the women and offered to buy them drinks, a security guard reportedly accused them of being prostitutes and asked them to stop soliciting. According to AlterNet:
"After the security guard ushers the brotha away, he comes over to me and my friends and says, 'Come on, ladies. You can buy a drink but you can't be soliciting,'" Washington told AlterNet in an interview. "We were like, 'soliciting?' He said, 'Don't act stupid with me, ladies. You know what you're doing. Stop soliciting in here.' We were like, 'Soliciting what?'"
"It's beyond what I can imagine could happen in 2014. Three black women, and the only reason why we could be there is because we're soliciting for sex? That's ridiculous," J. Lyn Thomas, one of the women involved, told AlterNet. "It was very dehumanizing and very degrading. He did it in front of the entire restaurant and they were watching the whole scene. It was humiliating."
A flimsy response: The three women allegedly complained about the incident to a manager, who told them that the security guard was outsourced and not technically an employee of the Standard. Weeks later, the hotel sent an email to the women — provided to AlterNet — offering them a free bottle of Champagne and a dinner with $400 value to make up for the insult.
The lack of a proper apology stung the women, and while the Standard has tried to maintain its distance throughout the course of this debacle, it changed its tune since the story went viral.
"All of us at the Standard are deeply sorry for the mistreatment suffered by Ms. Washington, Ms. Madlock and Ms. Thomas," the hotel staff told Gothamist in a statement. "We have informed the security company that the person who made these comments is no longer welcome to work at our establishment, and we have launched a full internal review of the Standard's policies and procedures — as well as those of our third-party vendors — to ensure this situation never occurs again."
It's sad that it takes public backlash to fix these situations. While it's good of the Standard Hotel to finally take responsibility for the situation, the staff could have made amends much earlier by simply apologizing, instead of trying to hush things up with free dinner and Champagne.
These women were upset not because their drinks were interrupted, but because they were insulted and accused of prostitution by someone on the Standard's payroll. It might be a good business strategy — let alone an ethical one — for the hotel to make sure paying customers, regardless of their color, are treated properly.