Kerry Washington Takes a Stand Against the Domestic Abuse Issue No One's Talking About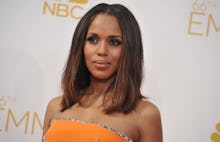 Owing in large part to the ongoing controversy over the NFL's handling of star player Ray Rice's assault on his wife, domestic abuse has received some much-needed attention in the mainstream press. Unfortunately, there's one aspect of this pervasive problem that's still too often overlooked: financial abuse. 
In an effort to address this oversight, actress Kerry Washington has released a powerful PSA highlighting monetary manipulation, one of the primary motivators for a woman to stay with her abuser. "Finances are almost always a weapon of choice," the Scandal star says in the video. "Taking away access to cash, destroying credit, jeopardizing jobs — financial abuse leaves invisible bruises that can take decades to heal.""
"I think people just aren't as aware of financial abuse," Washington elaborated in an interview with the Huffington Post. "That whole hashtag #WhyIStayed that happened last week, you saw how many of those responses were about feeling trapped financially." 
An overlooked problem: Financial abusers can use a number of strategies to trap their significant others. Abusers can stop them from working, can rack up debt in their name and can prevent them from accessing the couple's funds. Without money, a battered woman often has nowhere to turn, and as the Huffington Post points out, financial abuse is one of the most common reasons women stay in abusive relationships.
Putting her star power to good use, Washington was recently named spokeswoman for the Purple Purse initiative, a project that aims to prevent financial abuse. She designed this year's purse — a deep-purple leather and tweed clutch — with the goal of sparking conversations about such a sensitive topic. 
"It's difficult to talk about a black eye, it's difficult to talk about credit that's been destroyed, but women love to talk about fashion," she told Essence. "It's a good entry point for the issue." 
The symbolism of the purse is clear: It's a financial catch-all for many women, holding credit cards, cash and checkbooks. Purple is also the color associated with domestic-abuse awareness.
She's continuing the dialogue. Domestic abuse has been in the spotlight lately. The Ray Rice incident, wherein leaked footage showed the Baltimore Ravens player knocking his wife unconscious in an Atlantic City elevator, and the NFL's subsequent inaction brought the issue to national attention. 
The conversation is ongoing — as it should be. Domestic violence is an enormous problem in the United States; an estimated 1 in 4 women will be victims in their lifetimes. And as with many kinds of abuse, it transcends socioeconomic, educational and ethnic lines. 
A lack of understanding: Unless you've been a victim yourself, or know someone who has, it can be near impossible to fathom why a woman would stay in an abusive relationship. Why can't she just leave? Why would she put herself in that position in the first place? (Rice's wife, Janay, received this line of questioning.) 
This is something similarly highlighted in Melissa Jeltsen's excellent Huffington Post series on domestic violence victims. The project includes the story of Kate Ranta, who told Jeltsen how her husband's financial abuse wore her down until she felt like she had no choice but to stay in a toxic situation. "I dropped the restraining order and I took him back. That's a moment that, as a survivor, is very difficult to get over," Ranta said. "The relief of not having to worry about money was palpable. I want to stress here: This is a common story. Financial insecurity is one of the top reasons why women return to their abusers, especially if they have children. I didn't want to end up homeless. I didn't want my kids to suffer. Logistically, it made sense to me to take him back."
Washington's project is an excellent first step in expanding compassion for victims like Ranta and others, because it ties a reason for staying to something everyone can understand. No woman should have to make the decision between her financial security and well-being. Hopefully, the efforts of organizations like Purple Purse and so many others will help eradicate such a subversive scourge.