Anonymous Twitter Detective Immediately Solves Gay-Bashing Mystery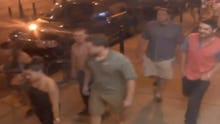 YouTube
The news: An anonymous Twitter user became a hero this week by solving the case of a brutal, homophobic gang assault on a young gay couple in Philadelphia that left the two hospitalized.
On the night of Sept. 11, the couple was cornered, verbally harassed and beaten into the hospital by a dozen or so "young, clean-cut" and apparently very drunk white men and women in their early 20s. As the pair were attacked, the gang repeatedly jeered them as "faggots" and even stole one of their wallets. NBC News reports that the couple's resulting injuries were gruesome:
Both men suffered injuries in the attack. The 26-year-old victim, who just returned home from the hospital, says his mouth was wired shut and he'll need eight weeks to recover.
The other victim additionally suffered facial fractures and lacerations. Even the women apparently joined in on the assault.
Twitter to the rescue: The police weren't able to identify any of the assailants, but that's where our anonymous Twitter hero steps in. Police released the following surveillance footage on Tuesday:
And just hours later, former Real Housewives of New Jersey star Greg Bennett posted the following tweet juxtaposing screen-grabs from the surveillance footage with a photo he says was sent to him by an anonymous user.
Another Twitter user, FanSince09, was able to quickly link the photos to names after his followers identified the restaurant as La Viola in Center City. Not only were the attackers cruel enough to commit a hate crime, they were dumb enough to do it just hours after checking in and posting photos of their night out on Facebook.
FanSince09 then alerted Philadelphia Police Department Detective Joseph Murray, sending him the gay-bashers' names and personal information, all of which was freely available online. Murray was ecstatic, to say the least:
Murray thanked his commanding officers for letting him use Twitter, without which he might still be searching for the suspects.
ABC News reports that the suspects had already found lawyers by Tuesday night, and were preparing to turn themselves in on Wednesday.
Modern technology: Not long ago, these terrible assailants wouldn't have had to worry about the technology that enabled this constant stream of photo, video and social media evidence, while public attitudes toward homosexuality were less welcoming than today. In the information era, dumb criminals are leaving huge digital paper trails for anyone with a modicum of computer know-how to find.
But keep in mind that not all Internet gumshoes are created equal. In the hours and days following the Boston Marathon bombings in 2013, Reddit users with more ambition and anger than evidence repeatedly incorrectly identified suspects, leading to accusations that Redditors were racially profiling members of the crowd and spreading misinformation in a digital "witch hunt." But others on the site also correctly identified both Tsarnaev brothers in photos of the crowd before and after the bombing, helping police track them down.
But in this case, it's pretty awesome that a handful of pseudonymous Twitter users and one former reality-TV star were able to use social media so quickly and effectively for justice and human rights. Way to go Internet.