An Amazing Woman on a Motorbike Is Waging a War on People Who Litter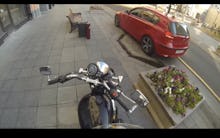 A motorcycle-riding vigilante is snatching litter from the streets of her city and shoving it where it really belongs: back into the faces of those who dropped it.
The video, originally posted to Reddit, shows a woman stealthily following people tossing garbage from their cars. Instead of politely asking them to stop, however, she takes the badass route and throws their trash right back into their littering faces.
As BuzzFeed points out, the woman is heard but never seen. The text in the beginning of the video seems to indicate that this anonymous vigilante is operating in a Russian city, though so far there's no official word from the crusader herself. There are, however, many words from the litterbugs in the video, and most of them are angry. 
One offender who tossed a bag of McDonald's food out his window received what looks like a milkshake to the face. 
It might not be the most peaceful way to combat improper trash disposal, but it's definitely the most entertaining. The music that our anonymous hero dubs over the video makes it that much better — as one Redditor noted, it could be a superhero short movie. 
Keep on keeping on, lady. The world thanks you.
h/t Reddit
GIF credits: Bored Panda