This May Just Be the Best Job Description Ever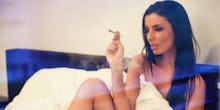 Attention all job seekers: Your dream job is ready for your application. The Denver Post's marijuana-focused offshoot, the Cannabist, is looking for a pot-loving sex columnist.
On Friday, the news site posted the opening for a sex columnist who will cover topics like "sex, relationships, intimacy, gender issues and more," but with a focus how relationships work within the legal marijuana world. 
Here's part of the actual job description:
The world is changing rapidly, and so are the ways we live (and love) with marijuana.
The only possible deterrent is that the Cannabist wants a freelancer who is willing to write under his or her real name and use his or her own personal history to discuss sex and weed. Other than that, there's no need for a resume or cover letter: Just send in a 100-word paragraph on why you deserve the job, along with a sample sex column. 
The Cannabist: The news outlet started just as Colorado broadened the legal weed frontier in January 2014. Their verticals include strain and product reviews, all things 4/20, food recipes and U.S. politics regarding pot policy. Moving into the arena of sex is not so strange, because as the job post notes, marijuana is closely tied to what happens under the covers. 
So far, a lot of people are very excited about this potentially perfect job: 
The Cannabist had better brace itself for what could be an overwhelming number of applicants. The deadline to apply is Oct. 1, so don't wait up — unless it's for research. 
h/t Huffington Post