Archaeologists Just Discovered the Proof That True Love Really Exists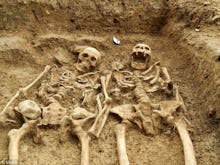 This gives a whole new meaning to the idea of eternal love.
The remains of a man and woman were found at the Chapel of St. Morrell, a 14th-century pilgrimage site in Hallaton, by archeologists from the University of Leicester, the Leicester Mercury reports. The archaeological dig, run by Hallaton Fieldwork Group volunteers, has been taking place for two weeks a year for four years.
"We have seen similar skeletons before from Leicester where a couple have been buried together," University of Leicester archaeologist Vicky Score told the Daily Mail. "The main thing is, why were they buried out up there? There is a perfectly good church in Hallaton. Was it a special place?"
Score told the Leicester Mercury that carbon-dating on nine skeletons uncovered so far during the Hallaton dig suggest that the subjects died during the 14th century. The pair holding hands may be of a similar age, but further analysis is required to know exactly how old they were at the time of death.
"What makes the discovery of the medieval chapel doubly exciting is to find the remains of a previous Roman building underneath it," she said. "It shows this ground has been used as a special sort of place by people for at least 2,000 years."
Score told the Mercury that she hopes her work at the Hallaton site would "eventually fill in the gap between the Roman and medieval periods."
"We are missing about 500 years," she said. "We don't know what happened here during that time."