A Group of Models Is Kick-starting a Revolution by Taking on Sexism in the Modeling Industry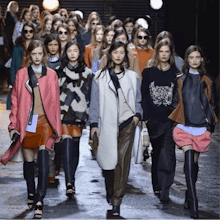 For decades, models have been taken advantage of and made to work long hours in tough conditions, with almost impossible expectations. Now, one group is trying to change all that.
There's been a lot of attention paid to the salacious activities of fashion photographer Terry Richardson, but a growing group of models, former models and their supporters — the Model Alliance — is the one that really deserves the attention. It's a sustainable movement to confront the uncomfortable power dynamics in the larger industry and take on the Terry Richardsons of the world.
The reality is most models are underage, don't all have adequate labor protections, can't sue for sexual harassment under federal employment law, don't have employer health care and have no union and it's been this way for years.
That's why the Model Alliance is stepping up to change things. Jennifer Sky, a writer, actress, former model and member of the Model Alliance, seeks to make the industry a better place for the girls who will follow in her footsteps. The group, co-founded by model Sara Ziff in 2012, is attracting more followers as its profile rises.
Sky said that while she appreciates the dialogue around sexual harassment in the fashion industry sparked by the reporting on Richardson, she believes focusing on him distracts from the real work that needs to be done.
"As they say, no publicity is bad press… [But] I think that there's a more systemic problem at hand," said Sky. "We need to broaden the conversation [beyond Terry Richardson]."
Image Credit: YouTube. Jennifer Sky makes a statement about the need for greater protections in the fashion industry.
An overwhelming number of models in the industry will grow up to be young women. But right now, they're only girls. According to research by the Model Alliance, 54.7% of models begin working between the ages of 13 and 16, which makes them kids who are incredibly vulnerable. When asked, "How often do parents or guardians go with models under 18 to castings and jobs?" 28% of respondents answered "never," 24% answered "rarely," 12% answered "sometimes" and only 9.3% answered "always."
Image Credit: AP. Sara Ziff, co-founder of the Model Alliance, gets ready for a runway show.
The same Model Alliance survey shows how frequent sexual harassment is for models of all ages: 29.7% of models faced inappropriate touching while working; 29.1% who were sexually harassed thought they could inform their agents, but then two-thirds of that 29.1% had agents who "didn't see a problem."
Image Credit: Model Alliance. The survey data is based on responses from 85 models in Los Angeles and New York.
Sky was an underage model in the 1990s. One trip, in which she went alone to Japan — and in which her parents were misled about the work she'd be doing — sticks out.
"They told my parents one thing. They sold them a whole idea. Once I got to Japan, it was a whole other situation," said Sky. "Once I got there, [they tried to convince me] not to reveal to my parents what was actually happening." 
Some of those who are meant to protect these young models simply don't.
"The agents are actually aligned with the clients. Most girls have such small career cycles that the relationships with the clients are more paramount to the agent than the relationship with the young workers," said Sky.
Sky described how she and other young models constantly faced coercion to not speak up whenever they were uncomfortable about something, with threats that their job was at risk and they were easily replaceable.
Image Credit: Instagram / Model Alliance. Sara Ziff and Coco Rocha talk with Katie Couric about protecting underage models.
One of the biggest issues the Model Alliance is working on is child labor laws. They pushed for revisions to a New York law to help support underage models and got a big win late last year. Partly in response to its advocacy, the state of New York now includes models under 18 in its new child performer laws, which offers protections including school night curfews, mandatory chaperones and tutors and limits on how long the model can be on-set.
Image Credit: Instagram / Model Alliance.
"New York is a good place to start because it's where all the very large fashion companies are, the big agencies," Sky said. "I'd love to see a federal law."
In addition to advocating for the protection of underage models, the Model Alliance also helps young models get access to health care, helps models avoid coercive contracts, is drafting a bill of rights and offers support and advice to young models who encounter a problem and don't know what to do.
In addition to changes in law — and attitudes within the industry — Sky says journalism also needs to care more about the girls and women wearing the clothes on the runway, in magazines and on billboards, rather than write articles that glorify individual photographers or sensationalize the issues involved.
"Where does the dress come from? Who is that person on the page who is selling you that product? It's young women on the runways in New York," she said. "It's a women's rights issue across the board."
There's still a long way to go. Over the years, changes in the broader fashion industry have been driven by incredible young women, from Mary Harris "Mother" Jones, a commercial dressmaker who became one of the most powerful union organizers of the 19th and early 20th centuries, to Coco Chanel, the only fashion designer to be named as one of Time's most influential people of the 20th century.
That's why this new group of young women is carrying the torch, all the way onto the runway.