The MacArthur 'Genius Grant' Winners Have Arrived — Here's the Badass One You Should Know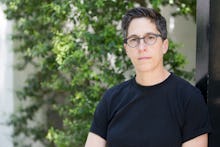 The news: The recipients of this year's MacArthur Foundation "Genius Grant" — a no-strings attached, five-year, $625,000 award given to individuals who show "exceptional creativity in their work" — were announced Wednesday and among them was a true star: Alison Bechdel. 
Bechdel, 54, is a well-known cartoonist whose comic strip "Dykes to Watch Out For" achieved cult status for its honest and hilarious representation of queer culture. She's also an accomplished author — her 2006 graphic memoir appeared on the New York Times best-seller list and won an Eisner Award. 
"Bechdel is changing our notions of the contemporary memoir and expanding the expressive potential of the graphic form," the MacArthur Foundation wrote in choosing her.  
Like any pioneer, her work transcends its medium. "Dykes to Watch Out For" is regarded as one of the foremost works for lesbian audiences (though plenty of straight folks love it, too).
"'Dykes to Watch Out For' has been as important to new generations of lesbians as landmark novels like Rita Mae Brown's Rubyfruit Jungle (1973) and Lisa Alther's Kinflicks (1976) were to an earlier one," the New York Times wrote.
The comic strip also gave us an entirely new cultural phenomenon in the Bechdel test, which checks if a work of fiction contains two female characters who have a conversation about something other than a man. The Bechdel test has become the go-to measurement for gender bias in contemporary works of fiction. Take last year's Oscar nominees — three of the nominated movies failed the test, as illustrated in these excellent charts from Al-Jazeera America's Michael Keller. A tan color represents a failure of the Bechdel test, while green represents a pass:
As Keller notes, 2013 was a particularly good year gender dynamics on the silver screen: 
Why does the Bechdel test matter? The portrayals of gender and sexuality in mass media inform and reinforce how they are perceived in society at large. 
"If girls grow up without seeing strong female characters on screen — leaders, engineers, scientists — it has a very real impact on how they see their place in the world," Nikki Baughan, editor of MovieScope magazine, told Metro. "It's a vicious circle and the Bechdel test is an important tool for highlighting this problem."
It does have its limits, though. Melissa Silverstein, founder and editor of Women and Hollywood, told Al-Jazeera America that "the Bechdel Test is a starting point and not a finishing point. I don't believe that two women talking to each other (about subjects) other than a man should be the bar we are setting for our films. I want strong female characters."
Regardless, Bechdel is still a luminary in her field. And her MacArthur "Genius Grant" only proves it further. As the foundation notes, the fellowship is given to those with "the prospect for still more [creativity] in the future." 
We can't wait to see what she does next.