America's Super-Rich Have Their Own Private Facebook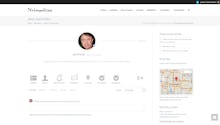 America's super-rich now have their own private Facebook-type site named Netropolitan, which charges a $9,000 registration fee and labels itself "the online country club for people with more money than time." 
Launched Tuesday, Netropolitan is "inaccessible from the public Internet," completely encrypted, ad-free and boasts features like staff moderators, cloud storage and total anonymity. So far, it does not appear to be an elaborate satire or biting commentary on the tone-deafness of America's social and political elite.
Netropolitan is the social network version of  a gated community. For that $9,000 and an additional $3,000 annual membership fee, the social network claims to offer an impregnable fortress of an online club where international jet-setters can post photos and stalk each other in private. The experience, like the physical world of the super-rich, appears to be deliberately insulated from the harsh reality of a sluggish economy and the highest-recorded levels of economic inequality since 1928.
"We simply cannot stress enough how important preserving our members' privacy is to us," the company told PCMag. "Other than announcing that at our launch we already had several hundred members, we will never publicly state the exact number of members in the club. And especially, we will NEVER release or verify the identity of any of our members — ever."
"I saw a need for an environment where you could talk about the finer things in life without backlash — an environment where people could share similar likes and experiences," creator James Touchi-Peters told CNN. "We view Netropolitan.club in the same light as any country club out there. They have initiation fees and yearly dues for members. Netropolitan is an online country club, focused on connecting members around the world. We believe there is a need for a community like this, and we are filling the need."
Touchi-Peters added that the community had been pre-seeded with "a select group of pre-qualified members," presumably because no one in their right mind would sign up for something on their own volition.
The company provided snapshots of the typical Netropolitan user experience, which, for a social network for the bourgeoisie, still seems relatively rudimentary and basic despite the fact that membership costs about 17.33% of the 2013 U.S. median household income of $51,939.
Apparently, $9,000 a year doesn't get you a lot yet, and Netropolitan currently looks like a quiet altar for a few confused, lonely, rich people to burn their money on than a thriving social experience. And a social network for the super-rich, even if private, may not be the best idea: Netropolitan's core demographic may have already been mercilessly mocked by sites like Rich Kids of Instagram, which catalogs future capitalist overlords' posts about their room-sized chess sets ...
... to their gold cars.
But with luxury brands thriving, who knows? At the end of the day, the "rich kids of Instagram" are still rich and still flaunting it online. Maybe Netropolitan is on to something.