In 6 Tweets, NFL Star Calls Out Anheuser-Busch for Domestic Violence Hypocrisy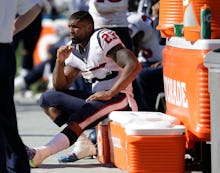 The NFL is in full-blown crisis mode over its handling of multiple domestic violence cases, with big-money sponsors voicing concerns over the league's image and ability to handle itself.
But one such sponsor's attack was met with some insightful backlash from one of the league's biggest stars. Last week, brewing company Anheuser-Busch released a statement calling on the NFL to clean up its act, but Houston Texans running back (and vegan former philosophy major) Arian Foster responded on Twitter.
Take a look:
The statistics: While alcohol is certainly far from the only factor in domestic violence, studies have shown that it can play a role in increasing the frequency and severity of abuse.
A World Health Organization report found that in the U.S., victims of abuse believed their partner had been drinking before 55% of assault cases, while the Department of Justice found that 61% of offenders have substance abuse problems.
The National Coalition Against Domestic Violence explains that "studies of domestic violence frequently indicate high rates of alcohol and other drug use by perpetrators during abuse," and that "not only do batterers tend to abuse drugs and alcohol, but domestic violence also increases the probability that victims will use alcohol and drugs to cope with abuse."
Combine that with an industry not exactly known for its support of women, and you have a recipe for some exceptionally hypocritical hand-wringing.
That being said: As true as Foster's observation might be — that companies only seem to speak out about issues like domestic violence when their bottom lines are affected — it doesn't change the financial impact that pulling sponsorships (or just threatening to pull sponsorships) could have on the most popular sports league in the U.S., especially considering Anheuser-Busch's $1.2 billion, six-year contract with the league. 
And it's important to remember that the NFL and commissioner Roger Goodell brought this controversy on themselves. Anheuser-Busch is speaking out against domestic violence in general, but their worry here is being associated with the league's incompetent at best, despicable at worst handling of the Ray Rice situation (and ongoing difficulty figuring out what to do with Vikings star Adrian Peterson).
All of this depends on how serious sponsors like Anheuser-Busch are. If they make noise about it but quietly decide to keep paying the NFL anyway, Foster comes out of this looking pretty spot-on in his observations.
h/t Deadspin