Young Baseball Player Is Hit in the Face With 88 m.p.h. Speedball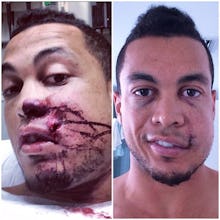 You can't help but feel bad for Giancarlo Stanton.
At 24, the Miami Marlins outfielder has quickly become one of the most feared hitters in baseball for his ability to, quite simply, crush longballs farther than anyone else.
Stanton entered the month with the National League lead in home runs and RBIs, but his career season came to a brutal and horrifying halt during a Sept. 11 game in Milwaukee.
Stanton was hit by an 88 m.p.h.-fastball square in the face, causing multiple fractures and embedding a tooth in his cheek. It's hard to imagine a worse way for one of the game's nascent superstars to finish a season.
The injury occured just days prior to the 19th anniversary of the end of Kirby Puckett's career. Puckett was having a similarly productive season for the Twins when he was struck in the face by Cleveland's Dennis Martinez on Sept. 28, 1995. Puckett eventually was unable to resume his career, a fate that Stanton appears to have avoided.
Fortunately, Stanton was in high enough spirits after his recovery to post some before and after pictures on his Instagram account, letting all of his fans know that it appears he'll make his return at full strength in 2015.
Marlins manager Mike Redmond said Tuesday there's a chance Stanton could return before the season ends.