House Of Representatives Throws Bipartisan Support Behind Obama's Syria Plan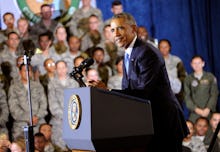 The House of Representatives voted Wednesday to approve President Obama's plan to deal with the Islamic State in Iraq and Syria.
By a 273-156 majority, the House approved Obama's plan to train and equip Syrian rebels to fight IS as an amendment to a larger spending bill. The president's strategy also calls for aid for Iraqi and Kurdish troops, as well as airstrikes in both Iraq and Syria.
The Senate is expected to approve the plan tomorrow, though a larger debate over how invested the U.S. military should be in the Middle East is likely to come later in the year, after the midterm elections
Support in the House was hesitant and cut across party lines. The amendment attracted unusually bipartisan support (as well as unusually bipartisan dissent). The "yes" vote comprised 159 Republicans and 114 Democrats, compared to the 85 Republicans and 71 Democrats who voted no.
Even among supporters, there was a sense that IS is too big and complicated a threat to be defeated by airstrikes and arming rebels. "It's the best choice of worse options," said Rep. James Moran (D-Va.), according to the Washington Post. "It's because there are no better alternatives and I don't think it's responsible to do nothing." Rep. Kristi Noem (R-N.D.) said there was "no silver bullet," but voted in favor of the amendment in anticipation of a larger debate over the scale of the U.S. response to IS.
Those who disagreed on the measure did so vehemently. "Launching airstrikes on another country, by any standard, by any definition, is an act of war," said Rep. Rick Nolan (D-Minn.), according to the New York Times. "Have we not had enough of imperial presidencies doing what they want in the world?"
Meanwhile, President Obama sought to tamp down criticism that his strategy against IS will lead to a larger campaign in the region, one which could involve U.S. troops and last years. In a speech in front of troops at MacDill Air Force Base in Florida earlier Wednesday, the president stated that this offensive would not end up like our previous engagements in Iraq, saying, "The American forces that have been deployed to Iraq do not and will not have a combat mission ... I will not commit you and the rest of our armed forces to fighting another ground war in Iraq."
A New York Times/CBS poll showed that 57% of respondents don't think the president is being "tough enough" with IS. A vast majority support air strikes in Iraq and Syria, according to a Washington Post/ABC News pool from earlier this month.
We now know the plan is officially "tough enough" for Congress. As to whether it'll be successful enough to hold off on further action, we'll just have to wait and see.