Bryan Cranston's Amazing One-Man Baseball Show Is Too Good Not to be True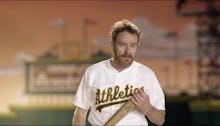 We're nearing the end of September, which means playoff baseball is upon us once again. As teams sort out whether they'll actually make the postseason — congrats to Baltimore and Washington for clinching their respective divisions Tuesday night — the ad machine is also revved up to get fans excited.
On Tuesday, TBS released a five-minute ad featuring Bryan Cranston. We have to admit, this spot is certified fresh.
Cranston dreams about coming up with a one-man show, and throughout the ad actually goes about executing it. He enlists the help of folks like ballerina Misty Copeland and former pitcher Pedro Martinez, and reenacts famous moments like Kirk Gibson's improbable game-winning home run from Game 1 of the 1988 World Series.
It seems worthwhile to point out that Cranston is a lifelong Dodgers fan and finally got to meet his childhood hero Vin Scully earlier this summer.
When you watch, pay attention to when Cranston dresses up in a Yankees uniform and bats. He's a dead ringer for Wade Boggs, the longtime Red Sox third baseman who has a little acting experience himself.