A Dude From Texas Tried to Swim to North Korea and It Didn't End Well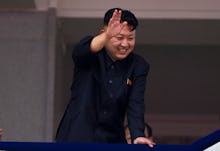 A Texan was taken into custody on Tuesday night for trying to cross a river into North Korea in order to meet the country's supreme leader, Kim Jong-Un. 
South Korea's border patrol says that they detained the 29-year-old man on a bank of the Han River, which is part of restricted military area and close to the North Korean border. The Texas-based computer repair man had entered South Korea 10 days before and, after his arrest, admitted to investigators that his goal was to meet North Korea's dictator.
Heading into North Korea: While there have been other Americans in the past who have attempted to make it into North Korea, the Associated Press notes that this instance is particularly unusual: Most people begin their journey in China, which shares a border with North Korea to the north, rather than making their way across the heavily-patrolled border between North and South Korea. 
And in 2009, Korean-American missionary Robert Park defiantly marched into North Korea pleading for the country to put an end to human rights violations. Park was apprehended and allegedly tortured. He was eventually deported in 2010 after 43 days of imprisonment. 
North Korea is currently holding three Americans in custody: Kenneth Bae, Mathew Miller and Jeffrey Fowle. Fowle was arrested for leaving a Bible at a stop on his tour in May and is still awaiting a trial. Miller was recently sentenced to six years of hard labor for reportedly tearing apart his passport and denouncing that he was a tourist. Bae "is two years into a sentence of 15 years' hard labor for 'hostile acts to bring down the government,'" according to the Washington Post. 
What happens now to the Texan swimmer? It's unclear at this point. South Korea's Defense Ministry and the National Intelligence Service have yet to confirm the reports about the young man's journey and intent. 
However, one thing is clear: American attempts to enter North Korea are historically proven to be a bad idea. This computer repairman is lucky he was picked up before he made it all the way there. 
h/t news.com.au